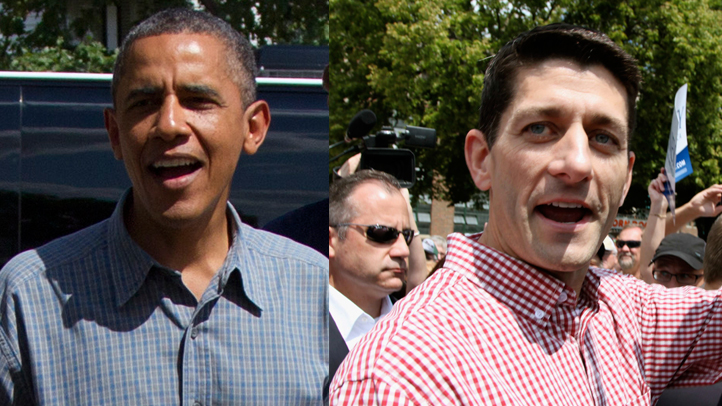 Paul Ryan jabbed at President Barack Obama on the campaign trail Tuesday over a remark from four years ago about frustrated voters clinging to guns and religion.
"I'm a Catholic deer-hunter. I am happy to be clinging to my guns and my religion," Ryan said at a campaign rally in Carnegie, Pa. The comment was a reference to comments Obama made at a fundraiser in April 2008 in San Francisco.
Speaking at a family-owned steel-supply company, Ryan accused the president of treating Medicare "like a piggy bank to fund Obamacare."
He planned to make an afternoon stop at the American Helicopter Museum & Education Center in West Chester before an evening fundraiser in Center City, NBC 10 Philadelphia reported.
Mitt Romney, meanwhile, was attending private fundraisers to raise cash ahead of next week's GOP convention.
Obama was set to fire back at Romney's vice presidential running mate over $115 billion in education cuts in Ryan's budget plan later Tuesday, The Associated Press reported.
Obama will appear at Capitol University in Columbus, Ohio and at a community college in Reno, Nevada.
According to The New York Times, the president is burning through his campaign funds faster than he can raise them. Last month, Obama's campaign spent $91 million more than the $75 million the Democrats raised, with nearly $40 million spent on advertising alone. Romney and his camp raised $101 million in July, outgunning Obama by $25 million and spending less than half of what Obama spent on advertising.
Obama made a surprise visit to the White House briefing room yesterday, where he defended the tone of his campaign, saying his criticism has never been "out of bounds." Obama also heaped criticism on Republican Rep. Todd Akin for his comments on rape and abortion, which he used as an example to draw distinctions between his views on women's health issues and those of Republicans.
Vice President Joe Biden was also out campaigning on Tuesday in Minnesota.