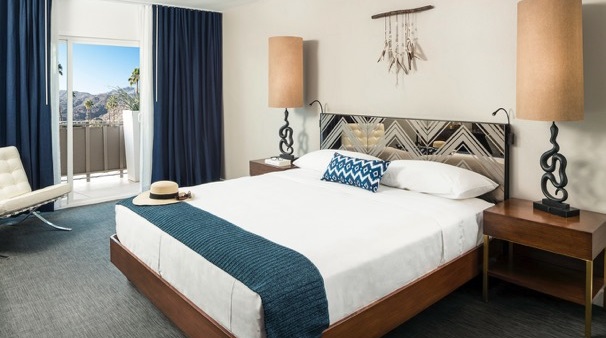 THERE'S A LOT OF EMPHASIS... put on the fashion worn to particular desert happenings these days, from the relaxed awards look of the Palm Springs International Film Festival in January to the mid-century shifts and suits of February's Modernism Week to a certain Palm Springs-adjacent music festival, one known for flowing sundresses and worn boots and neon-rimmed sunglasses and all manner of hair wear. If this is something you give some mind to -- that you want your sartorial swagger to be en pointe for your desert getaway -- you're likely looking at hotels and inns that share some of that stylishness, too. One of the newest spots in the valley is debuting just in time for the Coachella Music & Arts Festival and Stagecoach, too; it's V Palm Springs, which is located in the heart of the hubbub on Palm Canyon Drive.
PEEKS AT THE FRESH ROOMS... were just released, with the anticipation of a later-in-March opening. Yes, this is the former Curve Palm Springs Hotel & Resort, a property that just received a $15-million dollar makeover ahead of its new identity as V Palm Springs. There are 140 rooms in all, and each comes with that arid landscape-y look (think pools, snake-imagery here and there, sandstone-esque hues). "Set near the feet of the San Jacinto Mountains," the hotel is part of the up-and-up growth of South Palm Springs.
BUT WHAT WILL YOU WEAR BY THE POOLS? The sun hats and trunks never really go away during a Palm Springs winter, even as nighttime temps dip, but with a springtime debut, that whole resort wear roll-out comes on strong, even if you aren't attending a film or music festival. Best start plotting your outfits now, and eye the soon-to-open hotel as a possible place to strut your sunshine-ready sartorial stuff.
Copyright FREEL - NBC Local Media