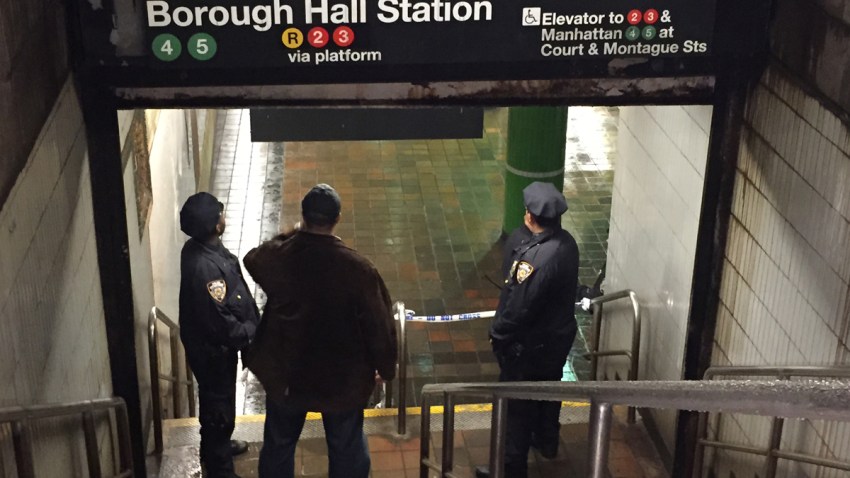 The retired New York City correction officer who fatally shot a man in a Brooklyn subway station in March won't be charged in man's death, the Brooklyn district attorney's office announced Monday.
The officer, 68-year-old William Groomes, fatally shot Gilbert Drogheo inside the Borough Hall subway station on March 10 after the two got into an argument that turned physical on board a No. 4 train.
District Attorney Ken Thompson said in a statement that he determined criminal charges were not warranted in the matter.
"Based on interviews of multiple eyewitnesses to the events leading up to the shooting, our review of video tapes of the shooting itself and other evidence, I have decided not to put this case into the grand jury and will not bring criminal charges against Mr. Groomes," he said. "While the death of this young man was indeed tragic, we cannot prove any charge of homicide beyond a reasonable doubt."
Drogheo's mother questioned why there were no charges when there was video of the altercation. Speaking on her behalf Tuesday, the Rev. Kevin McCall with the National Action Network said Drogheo was very distraught over the loss of her son and is frustrated that there will not be "justice."
Groomes got into an argument with two men after he boarded a Brooklyn-bound No. 4 train at the Bowling Green station in Manhattan on March 10. The altercation turned physical, and one of the men pushed Groomes into an empty subway seat, a source told NBC 4 New York at the time.
Groomes and the two men got off the train at the Borough Hall stop and started fighting on the platform, the source said. That's when Groomes allegedly identified himself as an officer and told Drogheo and Joschelyn Evering that they would be put under arrest.
The source says that the men ran away, with Groomes following. As the men tried to walk out of an exit gate, Drogheo and Groomes began scuffling again. Then, the source says, Groomes pulled out a gun and fired one round, which fatally hit Drogheo in the abdomen.
The retired officer and Evering stayed at the scene. They were not hurt and no bystanders were injured, police said.
Grooms was questioned by police and released. Evering, 28, of Brooklyn was charged with assault and menacing.
Norman Seabrook, the president of the city Correction Officers' Benevolent Association, told NBC 4 New York in March that they believe the retired officer was acting in self-defense when he shot Drogheo.

In a statement Tuesday, Groomes' attorney Peter Troxler said his client was gratified the Brooklyn district attorney's office opted not to pursue charges.
"Mr. Groomes cooperated with authorities at all stages of this investigation and is thankful that the criminal justice system afforded him an opportunity to provide his evidence and be given a full and fair opportunity to defend himself," Troxler said.