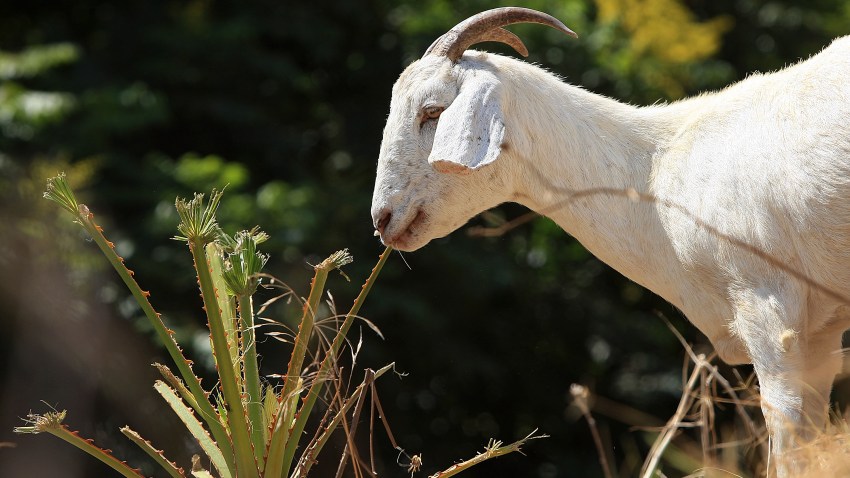 Strong winds, low humidity and above normal temperatures are prompting Anaheim to use some four-legged friends to combat fire danger.
A herd of 100 goats is patrolling the city's right-of-way on eastbound Santa Ana Canyon Road between Lakeview Avenue and Royal Oak Road, clearing overgrown brush and creating a safe space between homes and businesses.
"East Anaheim is full of hills and brush, which increases the likelihood of fires," said Ruth Ruiz, public information officer for the City of Anaheim. "The goats are a cost effective and environmentally friendly way to clear these areas and make them safe."
Download NBC4's Free Weather App | Severe Weather Warnings
The herd of four-legged field clearers cost the city $5,000 for the week and will clear six acres. They cost about one-third less than more traditional methods and work 24-hours a day.
"Goats are extremely efficient," said Johnny Gonzales, field operations manager for Environmental Land Management, the San Diego-based company hired by Anaheim. "They can eat almost anything and clear areas that give hand crews difficulty."
Because they are browsing animals, goats can eat a wide variety of material that may be harmful to humans but don't hurt them. They've been used to clear fields contaminated with asbestos, a carcinogen for humans but harmless to goats.
According to Gonzales, goat droppings do not contain the seeds of plants that they eat. This means they are better at permanently eliminating weeds and other forms of brush from fire prone areas.
"After three years the brush is permanently taken out," Gonzales said. "Since they are not from North America they take out non-native, evasive plants which suit their palates first. They leave other, less harmful plants for last."
Winds Pick Up Amid Red Flag Fire Conditions
This tendency makes it easy for Gonzales to move his herd from patch to patch without harming the environment. To clear the hills in Anaheim, Gonzales will set-up pens where the sheep and a dog will roam until it is clear. Then the sheep will be moved to another pen where they perform the same task.
According to Gonzales, this is the only time that the animals make noise.
"You might hear a few sounds moving them from pen to pen but other than that they are really quiet," Gonzales said.
Peace and quiet is appealing to cities like Anaheim when alternatives involve using loud, environmentally hazardous machinery.
Increasingly, Southern California cities are turning to goats to clear dry land. Gonzales has taken his herd of 1,600 goats to Scripps Ranch, Glendale Community College, and even Angels Flight in downtown Los Angeles.
In this especially dry winter, the livestock's unique capabilities are protecting residents in several parts of Southern California.
Red flag warnings have been issued for much of Los Angeles, Orange, Riverside, San Diego, San Bernardino, and Ventura Counties. The warning will be in effect until Wednesday, when high winds and low humidity are expected to subside.
The California Department of Forestry and Fire Protection is asking residents to be extremely cautious during this period of heightened fire danger. Additional firefighters are on duty in affected areas.