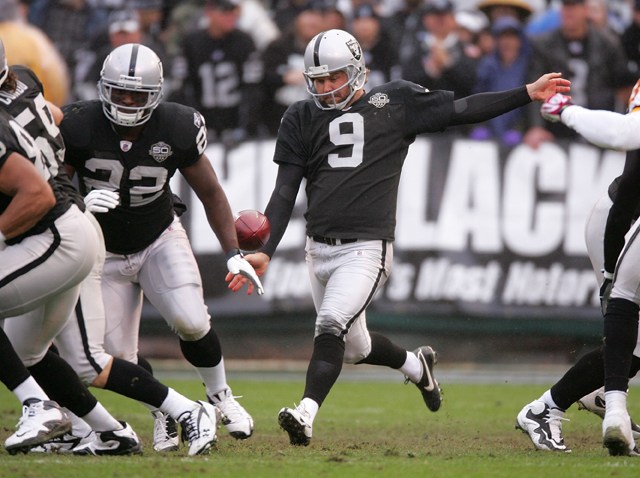 You knew this season might get bad, Raider Nation, but you may not have been prepared for the real kicker.
The Oakland Raiders are now so desperate at quarterback that they are trying out punter Shane Lechler at the position.
The San Francisco Chronicle's Vittorio Tafur reports as much, tweeting from Wednesday practice, "Lechler also taking reps at QB."
It's no secret that Raiders quarterbacks Jason Campbell and Bruce Gradkowski are both hurt, and the Raiders are down to their third-string quarterback Kyle Boller as they head to Invesco Field Sunday to face the Broncos.
Cable was asked Tuesday who his starter would be, and he told the Oakland Tribune, "We have no idea at this point."
Coach, you have one and only one healthy quarterback on your roster. This should not be a difficult decision for you.
Bruce Gradkowski is an absolute no-go, as he has once again not even practiced all week. Jason Campbell may have a slight chance of playing, as the Chron's Vittorio Tafur reports that Campbell and Kyle Boller were splitting reps at a Wednesday session described as "not even a half-speed practice".
Lechler was an emergency quarterback for the Texas A&M Aggies in college, and a full-time quarterback in high school.
Joe Kukura is a freelance writer who is shocked to see statistical proof that the Washington Redskins are no better off with Donovan McNabb than they were with Jason Campbell.
Copyright FREEL - NBC Local Media