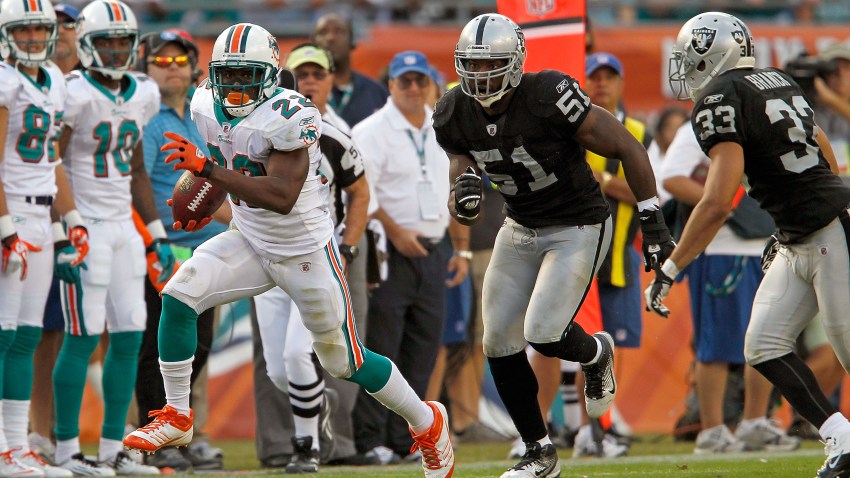 The Miami Dolphins had lost their first seven games this season, but Raiders head coach Hue Jackson had told anyone who asked that Miami is a good football team.
"I'm expecting a team that's really good," he told the Bay Area News Group's Jerry McDonald Saturday. "The one with the balanced attack that's a really good team. What they did earlier in the year has nothing to do with what they're doing now, so we've got to go and play a real good football game."
But, they didn't. The Raiders played a stinker.
U.S. & World
On Sunday in Miami, the Raiders were dominated by the Dolphins 34-14, with the Raiders' two fourth-quarter scores coming only after they were down 34-0.
Not only did the Raiders three-game winning streak come to an end, but so did their sole possession of first place in the AFC West. While Oakland was losing, Tim Tebow and the Broncos were pulling out another victory, beating the Vikings in Minnesota 35-32. The Raiders and Broncos are now tied at 7-5.
In winning their fourth of five games after that 0-7 start, the Dolphins were effective both on the ground (Reggie Bush rushed for 100 yards and Daniel Thomas added 73) and in the air (Matt Moore threw for 162 yards and a TD). Meanwhile, the Dolphins shut down the Raiders' usually effective rushing attack, giving up just 18 yards on 10 carries to Michael Bush.
Though Carson Palmer threw for 273 yards and two scores, the TD passes came after Kevin Burnett returned an interception of Palmer in the third quarter for the touchdown that put Miami on top 34-0.
Middle linebacker Rolando McClain – arrested this week in Alabama and charged with four misdemeanor counts connected to an incident in which he was alleged to have discharged a firearm – did not start Sunday, but did play. According to McDonald, Aaron Curry, an outside linebacker, moved inside to take McClain's starting spot.
Only four games now remain on the regular-season schedule, with the Raiders having to face the Packers in Green Bay next week, followed by a home game against the Lions, a game against the Chiefs in Kansas City and the season finale Jan. 1 at home against the Chargers.
The Broncos have a tough four-game stretch ahead as well, but with three home games (against the Bears, Patriots and Chiefs) and a road game at Buffalo.