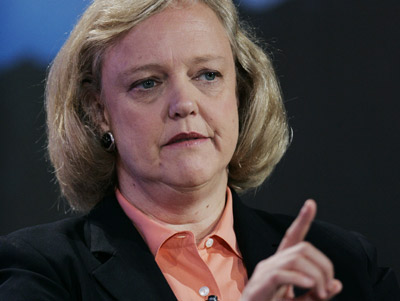 I can't believe I'm saying this, but I'm now officially feeling sorry for Meg Whitman.
Whitman was pilloried in 2010 for the millions – more than $150 million – she spent on her unsuccessful campaign for California governor.
That personal spending on politics broke all American records for self-funding campaigns, and she was derided as an example of big-money politics gone awary.
This week, Whitman, now the CEO at HP, is once again under fire again for her political spending. California Watch notes she's given only $2,500 to her longtime friend Mitt Romney, and only $5,000 to a Romney PAC.
The report asks why she hasn't given more, particularly to Romney's Super PAC, and hints at some sort of falling out with Romney.
Very tsk-tsking has followed on the blogs.

C'mon, give Meg a break! And pick a lane, California media.
You can't pick on Whitman for not spending enough on politics after she got slammed for spending so much.
Heck, maybe she's learned from her campaign that money can't buy a victory, so why bother giving boatloads of money to a candidate?
For now, Whitman can't win, whether she's politically generous or not.

Let us know what you think. Comment below, send us your thoughts via Twitter @PropZero or add your comment to our Facebook page.