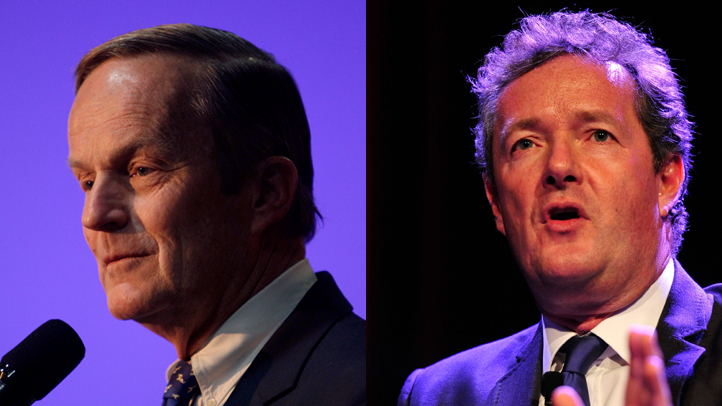 After a day of relentless pressure to end his Missouri Senate campaign over comments he made about rape, Rep. Todd Akin faced a barrage of insults from CNN host Piers Morgan for failing to appear for a pre-scheduled interview.
Akin was scheduled to appear on "Piers Morgan Tonight" at 9 p.m. but cancelled at the last minute, Morgan said. To fill his time slot, producers showed footage of an empty chair and turned to Illinois Rep. Jan Schakowsky, who criticized the absent guest.
"The empty chair sums up what many people think is between Todd Akin's ears," Morgan said, adding that Akin would be a considered " a gutless little twerp" if he refused a renewed invitation to appear on the show.
Akin was initially asked to appear on the program after his challenger, Sen. Claire McCaskill cancelled her appearance. Schakowsky filled the void by calling Akin and Paul Ryan "two peas in a pod" for endorsing "the same legislation that would limit women's rights to access to contraception, that would make even rape and incest not reasons for having an abortion."
Morgan tweeted about Akin's no-show after the broadcast, urging his audiene to follow @AkinEmptyChair, a parody account that mocked Akin's absence.
Akin made several media appearances Monday to apologize and clarify a statement he made over the weekend that suggested in cases of "legitimate rape" women could prevent pregnancy.
"I need to apologize," Akin told Mike Huckabee, host of The Huckabee Report radio show. "I made that statement in error, rape is never legitimate. I used the wrong words in the wrong way."
His original comment was made Sunday on KTVI after he was asked about his views on abortion in the case of rape.
"It seems to me, from what I understand from doctors, that's really rare," he said. "If it's a legitimate rape, the female body has ways to try to shut that whole thing down. But let's assume that maybe that didn't work or something: I think there should be some punishment, but the punishment ought to be of the rapist, and not attacking the child."
He issued several other apologies Monday, on Twitter and in other interviews, but calls for him to drop his bid for the Senate seat reached a fever pitch.
The National Republican Senatorial Committee pulled $5 million in advertising for his race, Republican National Committee Chairman Reince Priebus called for Akin to "step aside," and conservative radio and television hosts echoed Priebus' pleas on the airwaves and the internet.
Akin, who had been leading his Democratic challenger, Sen. Claire McCaskill, in the polls was counted among the Republicans who could help overturn a 53-47 Democratic majority in the Senate. A loss for Akin, could therefore send shock waves far beyond his district—a point conservative radio host Sean Hannity was hammering to Akin on his show Monday.
"There's so much at stake, and I'm reading an email from a friend of mine right now, 'this is bigger than one person, this is going to set us back," Hannity said.
"All those things need to be looked at," Akin replied, without indicating whether he would consider bowing out.
Akin has until 5 p.m. on Tuesday to make his decision.