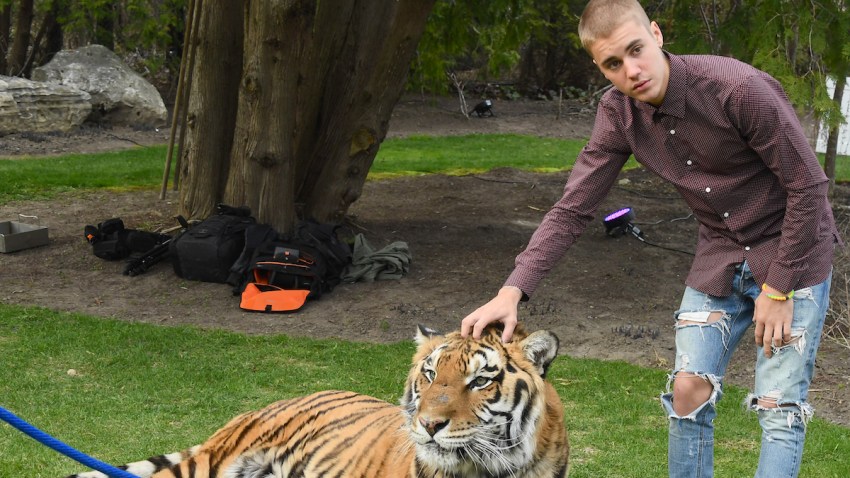 Justin Bieber's "Purpose," according to PETA, should not be to pose with chained tigers.
The Canadian pop star returned home to celebrate the engagement of his father, Jeremy Bieber, to his now fiancée Chelsey Rebelo, and for some reason the party featured a tiger. No, it wasn't a pet tiger on the loose like Mike Tyson's in "The Hangover," but instead was chained on some sort of leash contraption.
While Bieber, 22, obviously felt this was an amazing photo opportunity, animal rights organization PETA is slamming the "Love Yourself" crooner.
"Justin Bieber is lucky not to have had his throat torn out by this stressed captive tiger," says PETA Senior Vice President Lisa Lange to E! News in a statement. "Tigers used for photo ops are torn away from their mothers shortly after birth, and the Bowmanville Zoo, in particular, was caught whipping one tiger more than 17 times, even after the cat was lying on his back in a position of submission and fear. This is why PETA urges everyone to stay far away from cruel and dangerous big-cat photo ops and also why we're asking Justin to vow that this will be his last time promoting these types of abusive outfits." [[377831751,C]]
While PETA claims the tiger "appears" to belong to Ontario's Bowmanville Zoo, the ownership of the animal has yet to be confirmed. Michael Hackenberger, the owner of Bowmanville Zoo, was recently charged for animal cruelty (specifically, for brutally whipping a young tiger). Hackenberger stepped down as the zoo's director after being charged.
Bieber hasn't responded to PETA's request, but he did capture the moment on Instagram, so it seems he's proud of this meet and greet (despite canceling all his other photo opps with fans). The party also featured a plethora of superheroes. [[238904721,C]]
In addition to introducing the world to his four-legged cat friend, Bieber also debuted new hair. After receiving tons of criticism for rocking blond dreadlocks, the "Children" singer shaved all his hair off, much to the delight of his Beliebers.
"Your hair looks 10x better!!" a fan wrote.
"This is his hair now he looks like he's about to join the navy," another fan said.
"NO MORE DREADS YESSSSS GOD BLESS," a third person wrote.
While the shade about his hair has come to an end, it looks like this tiger is going to get the criticism rolling in all over again. Whatever backlash he may face, Bieber seems to be relaxing on his private jet – worry free. [[377831691,C]]
PETA's Postage Stamps: Hot Hollywood Vegetarians
Copyright E! Online