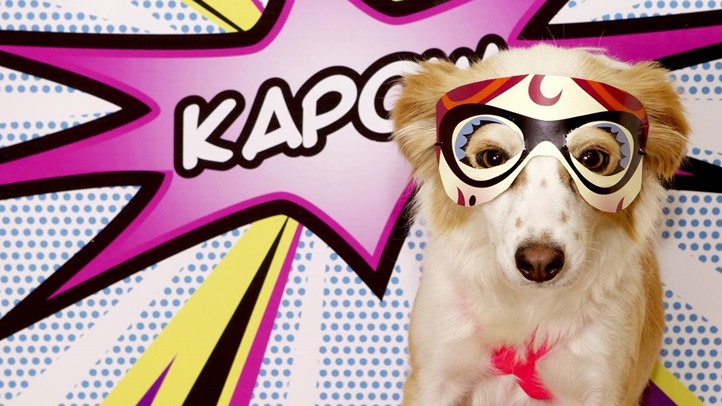 PERFECT SUPERHERO PET: If you woke up tomorrow and found out that a meteorite had passed over your house or a radioactive flea had bit you or your home was located on a mine filled with magical glow stones, would your first thought be A) I wonder what cool powers I'll get or B) I wonder what my awesome canine or feline super-companion will be.
BECAUSE... while transforming into a cape-rocking, mask-mysterious, bold-'n-brave superhero is frankly fantabulous, finding out you have a Fido who can fly or talk or go completely invisible is even better. We're not sure what amazing attributes the woofers and meowers who'll be up for adoption at PAWmicon will bring, but we can bet that some of their superpowers including napping and purring and rolling over and licking your face and loving everybody ever.
AS SUPERPOWERS GO, those are pretty terrific, so plan on alighting at the Stone Company Store in San Diego on Wednesday, July 8 to have a look at the cuties who need a home. The date, you'll notice, happens to be the day before Comic-Con International -- Comic-Con Eve, if you will -- so plenty of superheroes will already be in town but not yet too busy with convention-y doings. This means you have plenty of time to go cuddle, and potentially spark with, a sweetie at PAWmicon.
OR SHOW WITH YOUR OWN... superhero pet. There is a "comic-themed photo booth" and a costume contest (your pup could win a prize she'll like) and Doggy Beer Bones. Also good to know? The Rancho Santa Fe-based Helen Woodward Animal Center'll net ten percent of the bar's take, so you'll sip knowing future orphaned animals will get the TLC they need from the always busy animal safehouse. That's pretty dang heroic, helping out lovable buddies in need. Now, need an idea for how to cosplay with your canine? Look to the many famous superhero beasties populating the comics shelf, from Ace the Bat Hound to Rex the Wonder Dog. So sweet, so brave, so colorful, so able to dash after dastardly robots and dinosaurs and outer space visitors. Yep, it is certainly time we all pay superhero dogs -- both on the page and on our lap -- their due.
Copyright FREEL - NBC Local Media