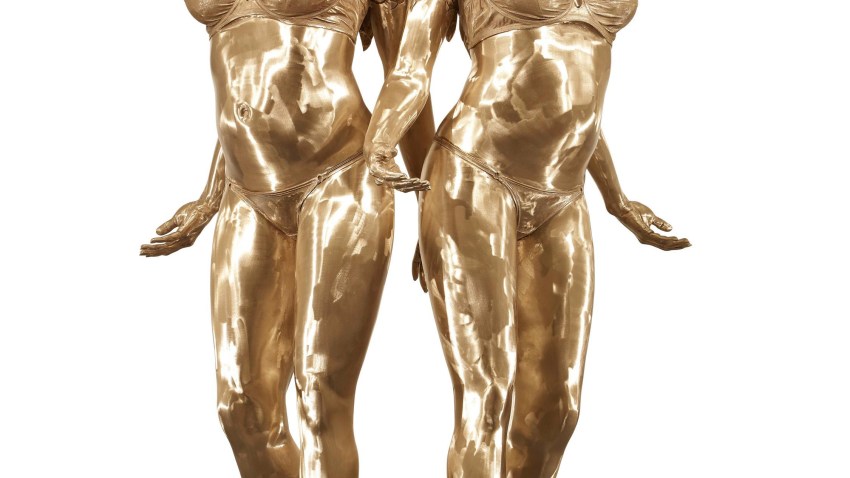 Just in case the image of Pamela Anderson's body ever retreats from the collective brains of the human race, an artist made a permanent representation of the Baywatch bombshell, which is on display in London through June.
The shimmering statue shows Anderson as a set of twins, cast in polished bronze, scantily-clad in a bikini and heels with her tattoos on display. British artist Marc Quinn included the work in an exhibit showing people who have transformed their appearances, reports the UK's Coventry Telegraph.
"You have got people who have decided to change the outside of their bodies to fit how they feel inside," Quinn said at the exhibition opening. The artist, known for his interest in the human form, famously created a statue of an armless pregnant woman called "Alison Lapper Pregnant," which stood in London's Trafalgar Square from 2005 until 2007. In 2006, Quinn sculpted Kate Moss in a yoga pose, called "Sphinx"
The exhibit, called "Allanah, Buck, Catman, Chelsea, Michael, Pamela and Thomas," includes depictions of Michael Jackson, Thomas Beatie, a female-to-male transgendered person who made headlines as the "pregnant man," and transgendered porn stars.
The larger-than-life marble sculpture of Beatie shows him at full-term pregnancy, wearing boxers and cradling his stomach. Quinn said his representation of Michael Jackson -- two sculpted heads, one black and one white -- which the artist said represents Jackson's transformation, but the real Jackson was somewhere in the middle.
Transgendered porn stars Allanah Starr and Buck Angel were depicted together, naked and holding hands, posed similarly to classic images of Adam and Eve. Starr, who attended the opening, said Quinn had been specifically looking for a male-to-female transsexual for his work who was "almost hyper-feminine."
She said the works are "a modern, classical, beautiful representation of a body."
"It's almost as if the future is here. It shows how society evolves and how technology and gender is fluid and interchangeable for so many people."