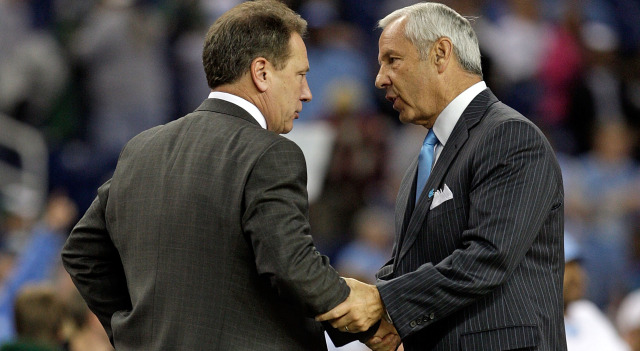 DETROIT - Either Tom Izzo or Roy Williams will win his second national championship Monday night at Ford Field.
Izzo already has wrapped up one unofficial award at this Final Four. He did that Sunday, with perhaps the most succinct game analysis in tournament history.
"If we play good and they play good, we're losing," the Michigan State coach said. "I don't look at that in the negative. They are the best team in the country, and have earned that rank probably over a year and a half.
"But we've found a way to beat some teams that are better than us."
That, right there, is the reason why they play the games. The Spartans aren't quite ready to concede anything to North Carolina, including the coronation of the Tar Heels.
North Carolina (33-4) has been the favorite to win this national championship from the moment Tyler Hansbrough, Ty Lawson, Wayne Elllington and Danny Green decided to return after last year's crushing loss to Kansas in the national semifinals. The Spartans (31-6) suddenly have become destiny's darlings, romancing a city and a state while becoming giant killers at the same time.
And although the two men in charge would never admit it, Monday night's game will go a long way in determining their legacies in the sport of college basketball. The outcome will be important for the way this decade is remembered. Florida's Billy Donovan led the Gators to consecutive championships in 2006 and 2007, an accomplishment that may not be repeated for a long, long time. Izzo and Williams can't do the back-to-back thing, but they can go 2-for-the-decade.
Izzo, now 31-10 in NCAA tournament games, opened the decade by leading Michigan State to an 89-76 victory over Florida in 2000.This is Izzo's fifth Final Four, which puts him in a tie for seventh all-time. He is tied for third among active coaches, trailing only Mike Krzyzewski (10) and Williams (7).
Williams is coaching in even more rarified air. He is making his seventh Final Four appearance and has a tournament record of 54-18. Only John Wooden, Dean Smith and Krzyzewski have coached more Final Four teams. Between stints at Kansas and North Carolina, Williams has reached the championship game for a fifth time. His only win came in 2005, when the Tar Heels defeated Illinois.
Thanks to the Sparty Party that Michigan State is staging here in its home state, the storyline has shifted to the point that the Tar Heels almost find themselves in an underdog role. Michigan State's mission to lift the spirits of an economically devastated region has become the main theme.
"I do realize they have a cause," Williams said. "Well, we also have a cause. We want to win a national championship. Period. The end. And if you would tell me that if Michigan State wins, it's gonna satisfy the nation's economy, then I'd say, 'Hell, let's stay poor for a little while longer.'"
Take that answer in the spirit it was offered. It has become difficult to be on the other side of Michigan State's drive for the community.
And Williams has fallen short of the ultimate goal enough times that his reputation, fairly or unfairly, became tied to the label of best coach never to win a championship. Before he could alter that in 2005, he had to endure a memorable upset loss to Syracuse in 2003. After what turned out to be his last game at Kansas, Williams told Orange coach Jim Boeheim he was "happy for him" winning his first championship.
"You will get one," Boeheim replied.
"I've never forgotten that," Williams said. "I've never felt that I would ever be able to say anything to Jim Boehiem that would make him feel as good as what he made me feel at that time."
Williams got that championship ring in 2005 with players he inherited at North Carolina. The team he puts on the floor Monday night truly belongs to him and the players trust him unreservedly.
"He's a good coach," Green said. "You look in his eyes and he seems like a guy you can trust. He's very honest and up front. He knows how to motivate us. He knows how to push certain guys' buttons to play better. He's achieved more than I have. He's been here before and he's won a national championship. Why not believe in him? Why not trust him?"
Lawson said Williams doesn't change his approach when the regular season ends.
"Our routine is definitely the same," Lawson said. "He's a little superstitious so he does things exactly the same. I think he pays more attention to detail in practice. He's that much more honest because he doesn't want us to do [wrong] in a game. He knows every play in the NCAA tournament is a big play. If there's anything different, he's just a little more fired up."
North Carolina's scouting report says Michigan State has 90 offensive plays to choose from tonight. Williams knows his players can't learn all 90 plays to defend. Like any other game, the Tar Heels will receive a two-page scouting report that focuses on North Carolina's defensive principles.
Much of Michigan State's success is being attributed to Izzo's more elaborate preparation tactics. Under Izzo, the Spartans are 14-2 in the second game of an NCAA tournament weekend.
"We devised a plan that we used when we played Princeton [in 1998] because it was such a hard second-day turnaround," Izzo said. "We devised a plan where we have these little 20-minute meetings, film sessions. Even if we get back at 1:30 in the morning from our game, which has happened a few times, we always have a film session so they can go to bed on it.
"We have meetings, walk-throughs in hotels, a lot of things I learned from my football buddies. I listened to Magic [Johnson] talk about when they were in the playoffs and how they used courts laid down in hotel rooms. I think the reason we've had such good success is the players' focus. I tell them, 'You get me through the first game and I feel good that I can help get you through the second.'"
Izzo used — and got contributions from — 11 players in the semifinal victory over UConn Saturday. That is rare for any coach to do at this late stage in the season, but Izzo has found success in building his bench as the season progresses. It may come in extremely handy against a North Carolina team that can wear opponents down.
"For coach, when players do what you ask, players execute, players focus in and do the things you want done, I think he enjoys it more," guard Travis Walton said. "Every player on this team has focused in to believe everything coach says.
"Coach Izzo has talked about how championship teams at this level are coached by the players. That has been the key to our run."
Williams says Izzo's teams are not difficult to prepare for. And he meant that in the nicest way.
"You've got to play your butt off," he said. "I wish my teams would defend and rebound like Tom Izzo's teams. I mean that sincerely. With Tommy, it's a bring-your-lunch-pail kind of game."
Izzo's plan has worked against Kansas, Louisville and UConn. Now the Spartans face their biggest challenge.
The championship game offers two terrific coaches with two distinct philosophies. Only one gets to go home happy.
Copyright MSNBC - MSNBC