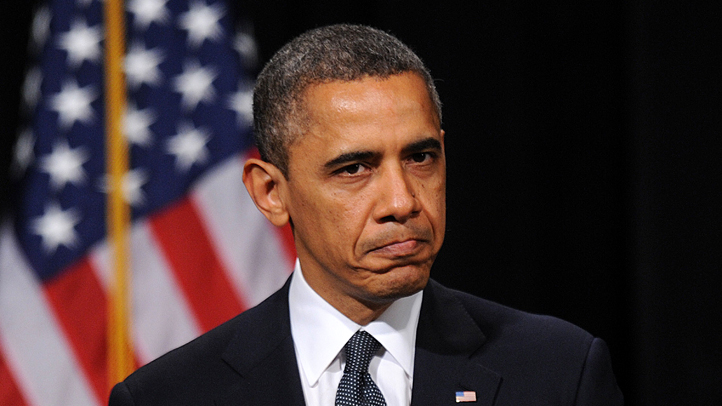 President Barack Obama vowed to use "whatever power this office holds" to protect the nation's children in the wake of Friday's shooting at Sandy Hook Elementary School that killed 20 children and six adults.
Speaking at an interfaith vigil Sunday evening in Newtown for the victims of the massacre and their families, Obama said that the nation isn't doing enough to protect children and that "we will have to change."
Click here for Obama's full remarks at Newtown prayer vigil.
"Caring for our children; it's our first job. If we don't get that right, we don't get anything right," Obama said in front of about 1,000 people in the Newtown High School auditorium. "That is how, as a society, we will be judged. And by that measure, can we truly say as a nation that we're meeting our obligations? Can we honestly say that we're doing enough to keep our children, all of them, safe from harm? ... The answer is no, we're not doing enough. And we'll have to change."
Besides those mourners who packed the auditorium, an overflow crowd of about 1,500 gathered in the school gymnasium. Some waited for hours in a cold drizzle for a chance to grieve with their fellow community members.
Inside the auditorium were a large number of elementary school-age children with their parents. Some of the children were seen squeezing stuffed animals given out by the American Red Cross. Faculty, staff and some students from Sandy Hook Elementary wore green and white ribbons -- the school's colors -- with a small angel in the middle.
"Now more than ever we need each other, because we are all in this together," said Matthew Crebbin, senior minister of the Newtown Congregational Church. "We are in this together."
The vigil was held the same day as new information was released about the shooter, Adam Lanza, and a day before parents across the country prepared to send their own children back to school with safety on their minds.
The president met privately before the vigil with families of the victims and with emergency personnel who responded to the shootings. The White House declined to release details of those meetings.
Upon introducing Obama to the crowd at the vigil, Connecticut Gov. Dannel Malloy said the president told him Friday was "the most difficult day of his presidency."
Visit NBCNews.com for breaking news, world news, and news about the economy
During his speech -- the fourth such speech of his presidency -- Obama mentioned the full names of the school employees who were killed, as well as the first names of all of the children. Sobs and crying could be heard from the audience as he mentioned certain names.
Obama didn't just comfort those in the audience with assurances that the rest of the nation is grieving with them, but he provided a context of what he may do in Washington as lawmakers bring up the issues of mental health and violence in society.
"We will be told that the causes of such violence are complex, and that is true," Obama said. "No single law, no set of laws, can eliminate evil or prevent every act, but that can't be an excuse for inaction. Surely we can do better than this.
"In the coming weeks I'll use whatever power this office holds to engage in an effort aimed at preventing more tragedy like this," he continued. "What choice do we have? We can't accept events like this as routine. Are we really prepared to say we're powerless in the face of such carnage? That the politics are too hard? Are we prepared to say such violence visited on our children year after year is somehow the price of our freedom?"
As the president and mourners gathered Sunday night, investigators continued to track down the answer to one elusive question: Why? Why would the 20-year-old Lanza go on a rampage, one that started at the home he shared with his mother and continued at Sandy Hook Elementary School.
But one thing became clear Sunday -- the tragedy could have been much deadlier. When Lanza shot himself in the head on Friday afternoon, after killing 20 children, six staff members and his own mother, he left behind hundreds of unused bullets, police said.
Earlier Sunday, a spokesman for the chief medical examiner announced the final two autopsy results for the shooting, confirming that the killer's mother Nancy Lanza, 52, had been killed by multiple shots to her head and that the gunman had killed himself with a gunshot wound to his head.
Those were just a few more of the grim details released in a case investigators said was among the hardest they had ever handled.
Police warned earlier Sunday that it could be weeks before they have a sense of Adam Lanza's motive, as they continue their grueling investigation of his Friday rampage, and cautioned that a glut of misinformation was being spread on social media websites.
The tragedy has shaken the bedroom community of Newtown -- and much of the nation -- to its core. But at the vigil Sunday night, many hoped that good will overcome.
"I know that Newtown will prevail," said First Selectwoman Patricia Llorda. "We will not fall to acts of violence. It is a defining moment, but it will not define us. We are defined by acts of courage, acts of love."
Obama shared a story about one of those acts of courage from a child at the school on Friday.
"One child trying to encourage a teacher by saying, 'I know karate, so I'll lead the way out'," Obama said.
"As a community you've inspired us," he continued. "In the face of indescribable violence, unconscionable evil, you looked out for each other, cared for one another, loved one another. This is how Newtown will be remembered."
A White House official said Obama was the primary author of his speech and edited his remarks on the flight to Connecticut with presidential speechwriter Cody Keenan.
Keenan helped Obama write his speech last year following the shootings in Tucson, Ariz., that left six dead and 13 wounded, including Rep. Gabby Giffords.