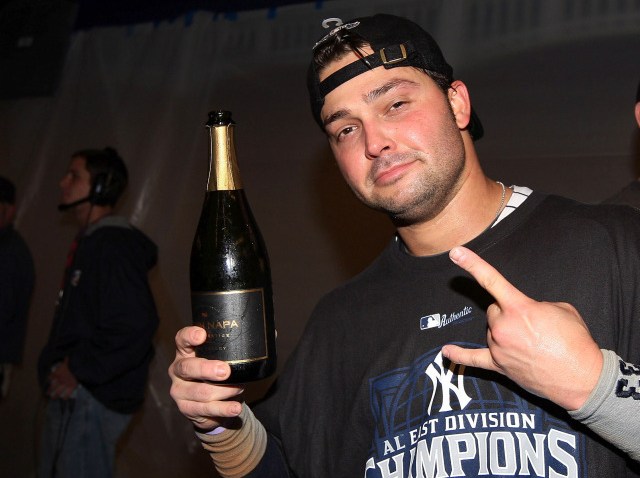 You'd think it would be hard to find a frown among the bleacher creatures of Yankee Stadium at the moment. Two wins to start the ALCS has the Yankees knocking on the door of the World Series and with the series headed to California it won't be necessary to freeze to watch the Bombers continue their quest for a 27th title. Alas, one Yankee fan is embroiled in a dispute involving a t-shirt celebrating Nick Swisher.
Vinny Milano, aka Bald Vinny, runs a website selling t-shirts designed to celebrate particular Yankee players and/or denigrate the opposition. One of his shirts honors Swisher's habit of saluting the bleachers during the roll call that the bleacher denizens sing out to welcome each Yankee starter during the top of the first inning. Milano got one of the shirts to Swisher earlier this season, so he was dismayed to learn recently that Swisher had trademarked the phrase and that Modell's was now selling the shirts.
On his Twitter account, Milano vented some anger toward Swisher for swiping his idea and profting from it.
"I just couldn't believe he'd stab me in the back like that, because Swisher has been so cool to us," Milano told the New York Post. "He's such a fan favorite. I just couldn't believe he'd betray me like that."

As it turns out, though, Swisher isn't worthy of a one-finger salute. While Swisher did trademark the phrase, the t-shirts on sale at Modell's are produced by the Major League Baseball Players Association and, according to Swisher on Twitter, are being made without his consent. Per their agreement with the MLBPA, Swisher and all players get a share of total licensing monies from merchandise without particular attention paid to whose name is pushing the merch.
There isn't much for Milano to do here, legally speaking. Swisher is right to protect his image with a trademark and the MLBPA has the authority to make the t-shirts. It's pretty sleazy of them to just steal someone else's idea without any compensation, but it's hardly the first time something like that has happened.
However, the publicity that this flap is generating may help him win the battle. Yankee fans upset by the fact that bigger corporate machers have treaded on Milano's turf could visit his website and purchase his Swisher t-shirts instead of buying the mass-produced versions at stores. Perhaps the next time Milano or some other enterprising fan comes up with a great idea, they'll do business directly with them to get an authentic version of the merchandise instead of merely using their legal right to do something as an excuse for their behavior.
A naive dream, perhaps, but if Bald Vinny's shirts sell while the corporatized ones don't money will, as always, have the last word.
Josh Alper is a writer living in New York City and is a contributor to FanHouse.com and ProFootballTalk.com in addition to his duties for NBCNewYork.com.
Copyright FREEL - NBC Local Media