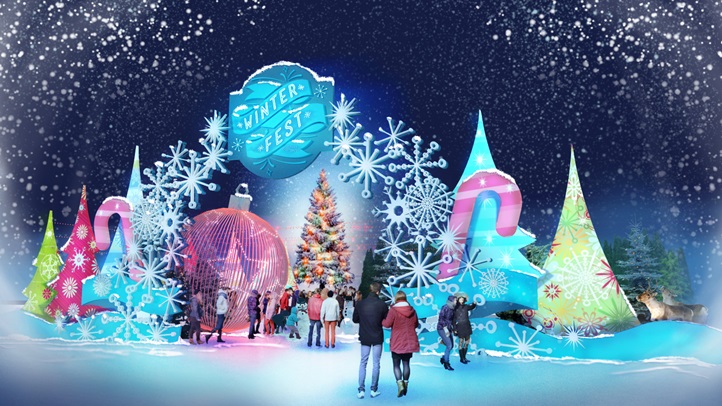 SNOW IN ORANGE COUNTY... is a bit unlikely, unless you're inside the Matterhorn, and then you have other more monstrous issues to think about besides flakes and icicles and such. (Seriously, the Abominable Snowman is a pretty hairy, scary fellow.) But holiday revelers will be able to find a little frosty fun within the county this Christmas season, if they drive their sleigh to Costa Mesa any time from Saturday, Dec. 18 through Sunday, Jan. 3. And all-new, oh-so-inaugural, see-it-for-the-first-time to-do is kicking off at the OC Fair & Event Center, and it is bringing with it loads of lively, mitten-up charms. It's Winter Fest OC, and it "embodies the spirit of the winter season" via a host of thematic activities. Let's start with the loooong slide, the one that's ice-covered and ready-made for you in a tube, the...
130-FOOT, SIX-LANE ICE SLIDE: Yep, you'll be wheeeee-ing past your friends at a notable rate of speed, as if you were atop some Alpine peak and not just a few miles from the beach. There shall be ice-skating, and if your twirls and axels don't keep you busy enough, there's the huge screen nearby, the one playing all of the candy cane-filled flicks we associate with the season. (Just don't sniffle on the ice, at a moving scene, or your tears might get a little cold against your cheeks.) Carnival rides and games, over two dozen of 'em, bring the midway merriness to the yuletide scene, and "the world's largest ornament" is custom-made for social media braggery. Honest now; if you don't get a pic of it, how will people know that you were really at Winter Fest?
CHRISTMASSY COCKTAILS... and fortifying bites, the kind you need to chow down on before heading back on the rink, are also on the Winter Fest menu. Live performers, carolers, a tree-lighting, and more baubles of the outlandish, big-party-ish sort fill out this over-sized trunk full of toys. And if you don't feed a graham cracker to a reindeer, how will you start 2016? Won't you feel as though your 2015 needed a little bit more? You have to time to make that dream a reality. Tickets to get in kick off at ten bucks online, and all the details are shimmering, like a snowman in the near distance, right over here.
Copyright FREEL - NBC Local Media