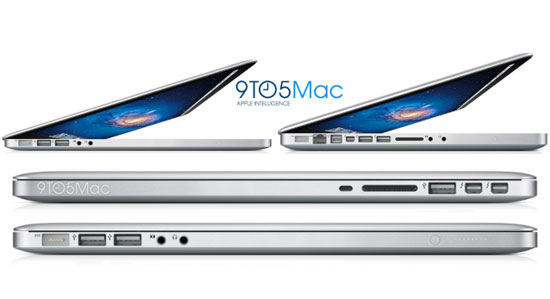 Rumored plans for a tapered MacBook Air-esque revamp to the MacBook Pro line might not happen. A new report hints that thinner (but not MacBook Air thin) Pro notebooks are coming with high-res screens, more Thunderbolt ports and at long last, USB 3.0.
Apple intelligence blog 9to5Mac reports the new MacBook Pros are almost ready to be released.
Weight loss is the name of the game. Apple will reportedly nix the optical drive, ethernet port and FireWire in favor of a thinner profile, a pair of Thunderbolt ports (old MBP's only had one), dual USB 2.0 port, and a new USB 3.0 socket.
U.S. & World
The inclusion of USB 3.0 should be seen as a blessing, as it should help bring the pricing for USB 3.0 peripherals down rapidly. Although Thunderbolt is faster, it walks in FireWire's shadow as the pricier option over USB (that is until Windows gets Thunderbolt).
The display for the new Pro line which is being described as "jaw-dropping" and "the most important Mac innovation in years" by 9to5Mac's sources will join the iPhone and iPad's Retina Displays for unparalleled screen clarity.
In terms of processing power, the experts over at Geekbench have benchmarks of an unreleased Ivy Bridge-based MacBook Pro tricked out with 8GB of RAM and a 2.7GHz Intel Core i7-3820QM showing a 17 percent boost over current Core i7 MacBook Pro models.
We're also hoping Apple will include solid-state drives as standard (it would be expensive!) and user-swappable RAM. Longer battery life also seems like a natural upgrade.
The new, thinner, MacBook Pros should come with OS X Mountain Lion installed. Mountain Lion is not expected to drop in the Mac App Store until "late summer 2012." If you've been waiting to buy a new MBP, start salivating, we've still got at least two months to go before we see these in Apple Stores.
Update: Bloomberg reports that Apple will debut the new slimmer MacBook Pro computers at WWDC on June 11, corroborating 9to5Mac's report that they new Macs will have high-res displays, extended battery life and flash memory (SSD? Hybrid SSD/HDD?).
Via 9to5Mac
Copyright DVICE - DVICE