Companies around the world are taking steps to create cleaner, more sustainable ways of living through innovative technologies that might just change everyday activities.
Tesla is no stranger to such technology. The California-based electric automaker also dabbles, with its sister companies, in battery production, hyperfast train travel and rockets, and it's now getting ready to take orders on a new technology: the solar roof.
Several months ago, Tesla announced it developed glass tiles that add a bit of fashionable flair compared to the average shingle, but also allow homeowners to harness the sun's energy. Consumers should be able to place orders this month.
With Earth Week underway, here's a closer look at the tiles, plus six other promising green tech innovations happening around the world.
Solar panels, shrunk down
Tesla's solar tiles aim to create a durable, more stylish option for those seeking to power their homes with solar energy. The goal of the tiles is to create what Tesla calls "the most beautiful and efficient roof ever."
"Would you like a roof that looks better than the normal roof, lasts twice as long, costs less, and by the way, generates electricity?" the company's CEO, Elon Musk, said in November. But even if the roof tiles are more sleek than the average solar panel roof, there's no definite answer on whether the tiles will be better than traditional solar panels when it comes to generating power.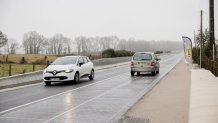 Village-powering solar roads
If solar-gathering roofs aren't hi-tech enough, France unveiled its first solar-powered road in Normandy in December. The idea behind the road, which is made of photovoltaic panels, is to gather enough power to supply a nearby village. Normandy's stretch is part of a promise to install 1,000 km of solar roadways throughout France over the next few years.
It's not the first of its kind, though. The Netherlands debuted a solar-powered bike path in 2014, called SolaRoad. It generated enough electricity to power a small house for a year, which was better than expected, Forbes reported.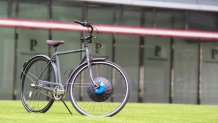 Pop-in electric bike wheels
Electric bicycles are gaining popularity among the environmentally conscious, but UrbanX's Drop-in Wheel is a lot less expensive than most of the other options out there. That's because it's just a battery-powered wheel that bicyclists can pop into almost any existing bike frame.
But the Drop-in Wheel hasn't hit the market yet — it's the result of a crowdfunding effort on Kickstarter, where it's described as a "60 second solution to convert your traditional bike into an electric bike with a 30 mile range and a 20mph top speed." There are six different wheels for backers to choose from, and the estimated delivery date is this summer.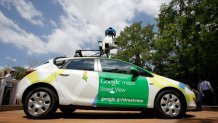 Methane-detecting Street View cars
You may have seen Google's Street View cars roving the roads, photographing the area for the 3D component of Google maps. But the cars have a new mandate, according to the Washington Post: detecting methane gas.
The greenhouse gas is emitted during the transportation and production of coal, natural gas and oil, according to the Environmental Protection Agency. The cars will be equipped with methane sensors to help pick up on spills in the surrounding areas, the Post reported in March. It's unclear when the program is set to start; Google didn't respond to a request for comment.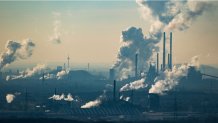 Baking soda-making coal plants
A coal plant in India is making what could be a major advancement in the fight to find a use for carbon emissions by converting them into baking soda, the Guardian reported in January. The plant, Tuticorin Alkali Chemicals, captures carbon dioxide from its coal-powered boiler and converts it into the household cleaning agent, the plant says.
The inventors of the chemical used to strip carbon, Carbon Clean, say that the new method needs less energy and is less corrosive than current carbon capture and storage chemical amine, according to the Guardian. According to Carbon Clean's website, "Carbon capture is estimated to reduce about 20 percent of the total global greenhouse emissions within the next four decades."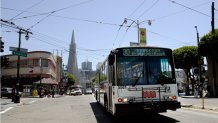 Battery-electric buses
Buses that run on electricity, rather than gas, are gaining popularity across the United States. In Antelope Valley, California, electric buses with the ability to travel more than 160 miles debuted last year. Nearby Long Beach also recently started integrating similar buses into its fleet of public transit. Even some school buses are going electric.
Electric buses can reduce pollution. Massachusetts and New Jersey are among the states also working toward instituting more electric buses.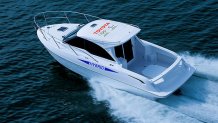 The first hybrid boat
Toyota is known for its cars, but now the company is testing out what it says is the first hybrid boats. Like the Prius car, the prototype uses two types of power generators, an engine and an electric motor, according to a company news release.
The electric vehicle mode has the potential to lower emissions and raise fuel efficiency. A feasibility study of the boats is being conducted from July 2018 through March 2021 in Tokyo, Toyota says. Tokyo's Metropolitan Government will provide Toyota with data on the boat's performance, and to verify its convenience and areas of potential improvement.
[NATL] Animals Recently Endangered, Threatened in US