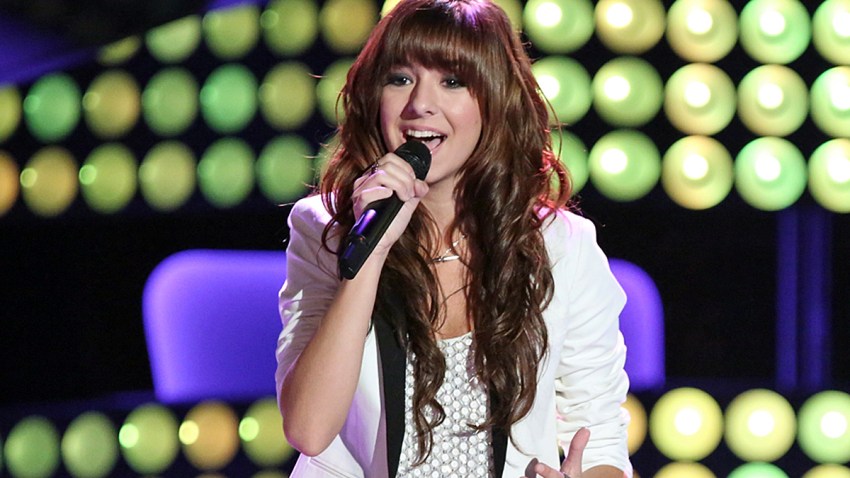 "The Voice" was back Monday for its sixth season, and with it returned season four coaches Shakira and Usher -- both of them eager to wrest "Voice" victory from coaching vets and past winners Adam Levine and Blake Shelton.
As for what it might take for them to do that? Well, the blind auditions Monday gave a glimpse of what the energized prodigal coaches might do to win the show's top talent.
YouTube sensation Christina Grimmie kicked off the blinds with a bang, winning over the coaches with her ferocious take on "Wrecking Ball." Her creative addition of bluesy flourishes to the Miley Cyrus won chair turns from both Usher and Shakira -- eager to press their red buttons after a season absent from those big chairs -- and then from "Voice" vet (and winner) Adam.
Usher stood to cheer as she sang, praising her performance afterward as "phenomenal" -- but his pitch was evidently no match for that of the reigning "Voice" champion. (Nor was Shakira's: "I am relentless and focused as a laser.") She picked Adam.
But Shakira and Usher had evidently come into season six with a vengeance and a vow to dethrone the two erstwhile winning coaches. They honed it Monday like, as Shakira said, a laser.
Usher got a team member of his own with TJ Wilkins, an R&B singer with a deep, infectious chuckle who'd avoided the tough streets of his native South Central Los Angeles to focus on performing, majoring in music in college.
His unlikely R&B take on the Elton John classic "Bennie and the Jets," with his rich croon and effortless falsetto, earned him chair turns from Usher and his senior coaches Adam, who praised his "unique flair," and Blake, who dubbed him "Teej" in an effort to conjure up rapport. But TJ chose Usher as his coach, calling the chance to work with the R&B hit maker "a hell of an opportunity."
Shakira may not have turned for TJ -- but she knew soon after Kristen Merlin, whose Massachusetts background and bleached crewcut belied her full-on country sound, began singing Sugarland's "Something More" that she wanted her for her team. (It was good fortune for Kristen, too, who was losing patience. "There are certainly times when I question, what am I doing? I'm almost 30," she'd said.) Shakira stood in her chair and cheered for Kristen during her performance.
That enthusiasm, plus the hard sell she gave afterward -- name-checking her 20 million Twitter followers and offering to bring in Blake's wife, country star Miranda Lambert, as a guest coach -- paid off. (It helped that Blake pulled for her, too, noting how similar Kristen's vocal vibrato was to Shakira's.) Kristen chose Shakira over rival coach Adam.
Shakira similarly pulled out all the stops in fighting for Biff Gore, a 45-year-old church worship leader and father of five (soon to become six) who had come to the "Voice" stage from his hometown of Denver with his brother, whom he credited with saving his life when the two served in the military during the Gulf War. "My style is very soulful. I call it 'life music,' music that just reaches out and grabs you," Biff explained of his style.
He wasn't being hyperbolic. His powerful rendition of the inimitable Sam Cooke civil rights classic "A Change Is Gonna Come" riveted the coaches -- first Adam, one of whose team members had performed the song last season, and then the others in quick succession. Shakira tried to woo Biff to her team first with an offer of a date to the Grammys (which the dutiful husband politely declined), then by badmouthing Adam, who she said was too preoccupied planning his wedding to help Biff win. "All he's got in his head are flower arrangements," she said.
But Biff didn't pick either of them, anyway. He picked Usher as his coach, to the other coaches' chagrin.
Adam picked up another team member with the night's only duo, the painfully picturesque indie-folk songwriting duo Dawn & Hawkes, a real-life smitten couple who'd met when he tried to pick her up in an Austin, Texas, bar. They performed the Beatles' "I've Just Seen a Face," earning chair turns from Adam and Shakira. This time, Shakira's sell was no match for Adam's. He was as smitten with the duo as they were with each other.
"That was my favorite performance that I have seen ever on 'The Voice,'" he gushed. "This is special. This is something that I want to be a part of, no matter what." He got his wish, as the pair picked him to coach them.
Shakira won another team member with Sacramento-based classic rock band frontman Jeremy Briggs, who hit the "Voice" stage in the hopes of kick-starting his career so he could leave behind his nine-to-five government job to play music full-time. His take on Bad Company's 1974 hit by the same name won over the Latin pop superstar, who touted her own rock and roll past and promised she was ready to win "The Voice" with him on her team. "I'm hungry," she insisted, and Jeremy picked her over Blake to be his coach.
As soon as the next contestant hit the stage, though, it was clear Blake wasn't going to finish the night without picking up a team member. If that contestant looked or sounded familiar, it's because he was. Texan teen and aspiring country singer Jake Worthington had auditioned in season five, and after he'd failed to turn any chairs then, he'd taken the coaches' advice to heart.
On the "Voice" stage Monday night, it was clear the effort had paid off. His soulful take on Keith Whitley's country ballad "Don't Close Your Eyes," on which he accompanied himself on guitar, won over three of the coaches -- but as soon as Blake turned his chair, the question of whom Jake would pick as his coach was a foregone conclusion. Jake tipped his hat to both Shakira and Adam ("my aunt thinks you're the sexiest thing on earth," he told the Maroon 5 frontman and erstwhile Sexiest Man Alive, according to People magazine), but he picked Blake as his coach.
The final singer of the night, though, was the one over whom the coaches fought most ferociously -- and whose fight served as perhaps the night's biggest reminder of just how hard Shakira and Usher in particular would lobby for the talent they believed would net their teams the title of "The Voice."
That singer was Bria Kelly, whose gut-wrenching take on the Elvis Presley tune "Steamroller Blues" was thick with guttural grit and an emotive belt that should have been beyond the reach of somebody just 17 years old.
"Ladies and gentlemen, we have just heard THE voice," Usher gushed, kicking off a spirited round of squabbling among the coaches for the right to count Bria among their team members. It was Usher's tribute -- and, granted, maybe his attempt to gift her one of his Grammys, to the puzzlement of his fellow Grammy-winning coaches -- that helped win Bria over. She picked him as her coach, setting the stage for a season of strong talent on sophomore coaches' teams.
But the first night of the blind auditions didn't end without a few contestants going home disappointed, after finishing their performances to see a quartet of chair backs before them. Sixteen-year-old Tanner Linford went home after he admitted his nerves got the better of him onstage, and dancer-turned-singer Leo Galli did the same after he let his moves get the better of him as he performend "Blurred Lines." Indie songwriter Carina Mia's unique breathy voice impressed the judges, but her pitch problems cost her a chair turn.
If Jake Worthington's reappearance Monday is any indication of blind auditions also-rans' future "Voice" potential, though, they could be back before the four chairs soon.
In the meantime, "The Voice" gears up for another night of blind auditions Tuesday.
"The Voice" airs Mondays and Tuesdays at 8/7c on NBC.