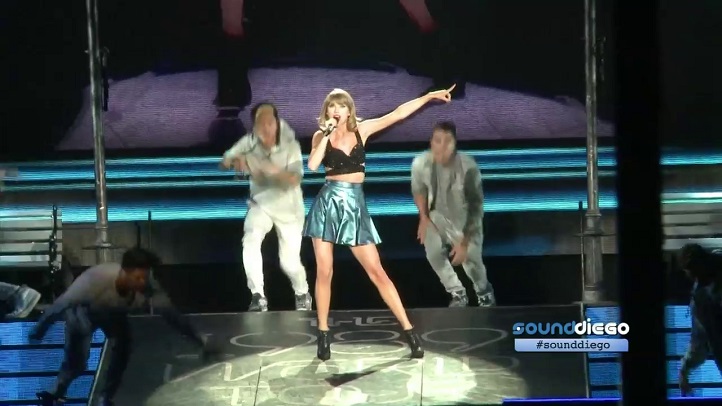 Round two goes to Taylor Swift.
The chart-topping teenage pop star got revenge on Kanye West in a big way during her "Saturday Night Live" debut, poking nationally televised fun at the rapper who stormed the stage during Swift's MTV Video Music Awards acceptance speech.
Swift opened the show with a comic musical monologue, strumming on her guitar as she sang about everything from bad breakups to West himself.
"You might think that I'll say something bad about Kanye," she sang. "But everything's okay, and I have security lining the stage," she joked in the song, as two faux-security officers surrounded Swift toting a sketch of West.
West interrupted Swift onstage at the VMA's after the singer won the award for Best Female Video of the Year. The rapper grabbed Swift's microphone and told the audience that Beyonce deserved Swift's award, starting a national fallout that would eventually see West apologize to Swift multiple times on his blog and on TV.
Rumors swirled before Swift's gig that West would make an appearance on the show.
During the show, Swift took on the role of reality mom Kate Gosselin, rocking Gosselin's signature lopsided hairdo on a skit that featured Swift-as-Gosselin co-hosting "The View" alongside Kenan Thompson's Whoopi Goldberg and Fred Armisen's Joy Behar. She later tried her hand at another impression, playing Latin singer Shakira.
Swift donned a brunette wig in a mock "Twilight" trailer, turning into a dark-haired high-schooler who falls in love with a teenage Frankenstein for the "Firelight" sketch. Swift, 19, is rumored to be dating "Twilight" star Taylor Lautner, who plays a werewolf in the hit vampire film series.
One skit should've hit home for Swift -- she starred as herself in an entertainment news parody, interviewing with Kristen Wiig and Bill Hader as two hosts of the made-up show "Hollywood Dish." Another sketch saw Swift wear a fake goatee and cornrows as a male corrections officer torturing underage criminals.
At the end of the show, the humble Swift said she "couldn't believe this was happening" and that her experience with "SNL" had been "the best week of my life."
The singer performed two songs, including hit "You Belong With Me," on the show, which also saw veteran Amy Poehler pop in for a guest appearance on "Weekend Update."