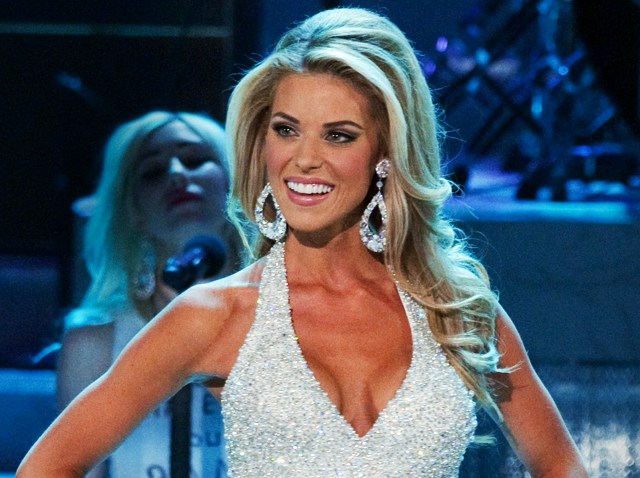 Carrie Prejean is breast-deep in debt -- and the Miss California pageant has come to collect.
The infamous Miss Cali and Miss USA second-place winner Carrie Prejean was sacked with a cross-complaint from Miss California officials, who have charged Prejean with ripping the pageant off for the cost of her $5,200 breast implants.
The complaint was a response to Prejean's suit for religious discrimination, TMZ reported, in which Prejean asserts she was dethroned because of her religious beliefs. Prejean's Miss California crown was taken June 10, two months after she made national headlines by speaking out against gay marriage in the final interview portion of the Miss USA pageant.
The officials' new complaint is a move to strike the portions of Prejean's religious discrimination suit that deal with the disclosure of "private facts."
"The alleged 'private facts' consist of her breast augmentation (which ceased being private during the swimsuit competition of the nationally-televised Miss USA pageant, in which Ms. Prejean walked the stage in a bikini)," the documents filed by Miss California USA head honcho Keith Lewis read.
The complaint also contains digs at Prejean's religious beliefs, including a catty allusion to a Bible verse aimed at insulting Prejean and labeling the pageant diva a hypocrite.
"Had [Carrie] heeded the guidance of the Gospel of John, who admonished only those who are without sin to cast stones in judgment, she might have avoided this legal battle," the documents read, alluding to Prejean's semi-nude photos that circulated through the media after her anti-gay marriage interview answer.
Lewis said when Prejean's suit was filed that it was all a publicity stunt and that Prejean's religious affiliation had nothing to do with their decision to dethrone the pageant queen.
"For us, it has never been about her beliefs and we have always just wanted to move on," Lewis said in late August.