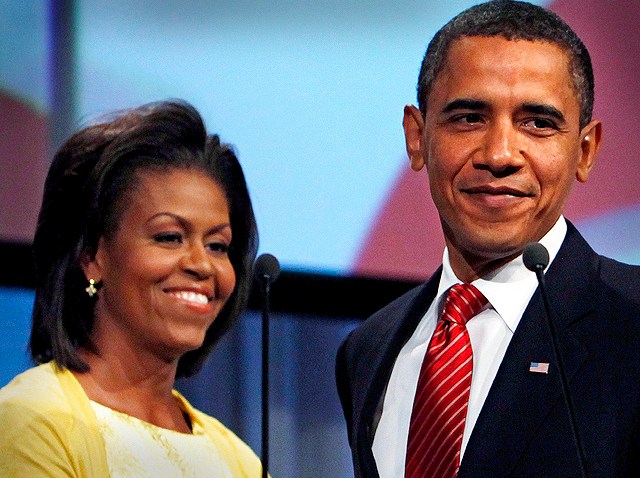 First Lady Michelle Obama dished on Jay Leno's NBC show Friday about her husband's most annoying habits, sarcastically quipping hubby Barack is "perfect" before she spilled the beans about how he angers her the most.
Leno asked Michelle on-air Friday what irritated her the most about her presidential partner, igniting Michelle's dry sense of humor -- she deadpanned that he was "perfect," then revealed it's his top-notch tennis game that drives her crazy.
"He beats me quite often," Obama answered. "It gets to be pretty annoying."
Michelle continued to riff on Barack, saying there "wasn't enough time" to talk about his bad habits.
The first lady also opened up about what she whispers to the president after his signature speeches, telling Leno she doesn't offer top-secret foreign policy advice or congratulations -- but something a little more domestic.
"I usually ask him, did he take out the garbage?" she said with a laugh.
She answered Leno's question about whether Obama would prefer world peace or the Chicago White Sox' World Series bid diplomatically, saying her hubby would likely choose "world peace" but that he "wouldn't mind" his Sox getting a bid to the big game.
Barack wasn't the only family member getting ripped by the first lady -- she cracked a joke about First Grandma Marian Robinson, 72. Leno asked who disciplined daughters Sasha and Malia the most, and Michelle didn't hesitate to point the finger at her own mother.
"I can tell you who disciplines them the least, and that would be Grandma. She is worthless!" Obama said. "Cookies, TV, whatever they want."
Michelle also spoke to Leno about the first dog Bo, saying the Obama family celebrated his first birthday with a dog house made out of veal and "party hats." Daughters Sasha and Malia also came up in the conversation, but Michelle wouldn't answer Leno's question about what the first daughters plan to wear on Halloween.
"You need security clearance for that," she said.
Obama was filed via satellite from the White House in a bit filmed before Leno's show aired Friday.
Copyright AP - Associated Press