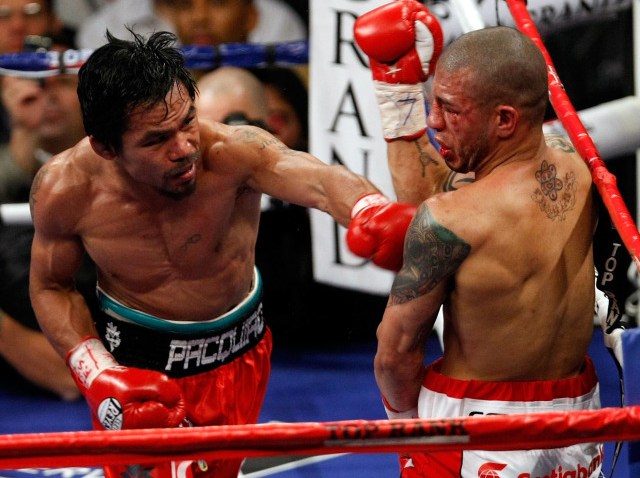 The unstoppable Manny Pacquiao locked up his 7th title in seven classes with a bloody win over Miguel Cotto in Las Vegas Saturday, setting up the Filipino fighter for a mega-match against superman Floyd Mayweather, Jr.
Pacquiao knocked down Cotto twice and landed a clean blow to his face in the 12th round, NBC Sports reported, sending Cotto to the floor at 55 seconds in with a faceful of the red stuff.
The fight proved the speedy, powerful Pacquiao could dominate the ring in any weight class -- this saw him fight at 145 pounds. He has moved up in weight classes from his initial 106-pound foray into the arena, consistently beating opponents to advance.
The sellout crowd at the MGM Grand roared as Pacquiao downed Cotto, chanting for the match with Mayweather once Cotto fell. "We want Floyd! We want Floyd!" the crowd screamed.
Pacquiao raked in some $13 million from the fight, while Cotto earned about $7 million.