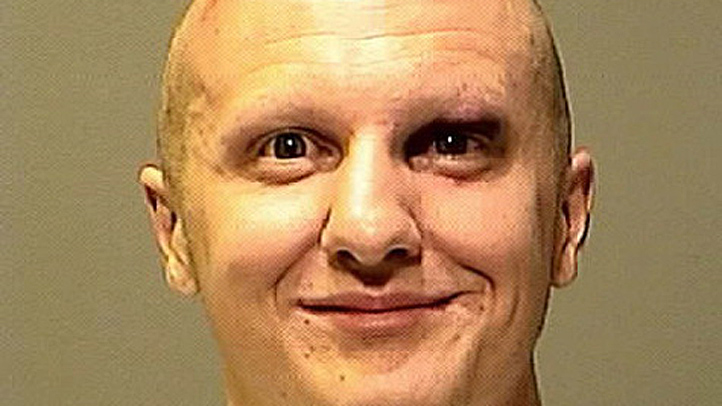 The man accused of unleashing the deadly mass shooting rampage that wounded former Rep. Gabrielle Giffords last year pleaded guilty Tuesday, just after he was ruled fit for trial.
Jared Lee Loughner, accused of the January 2011 shooting in Tucson that killed six people and wounded 13, including Giffords, said he understood the charges against him and wished to plead guilty. He also said he was of a clear mind.
That new plea means Loughner will be spared the death penalty but will spend his life in prison, with no possibility for parole, U.S. Attorney John Leonardo said at a news conference Tuesday afternoon.
It was made possible by a crucial ruling Tuesday by Judge Larry A. Burns that found Loughner competent and fit to stand trial.
"He's a different person in his appearance and affect than the first time I saw him," Burns said in Arizona federal court. Loughner has spent more than a year forcibly medicated with psychotropic drugs for schizophrenia.
He has since "become human" and is "tormented" by his actions, forensic psychologist Christina Pietz, who treated him in federal prison, testified in court Tuesday.
She said he had reached a turning point in his mental fitness. As a result of medication, he had become more rational and remorseful, with a clearer understanding of the murders he is accused of committing, Pietz said.
"He understood what he had done, understood the victimization he had caused, and he was sorry for that," she said. She said he had wept as he talked about the victims and told her he was "tormented" by his thoughts and sometimes cried uncontrollably, particularly about the child victim.
Pietz told the court that Loughner had become upset when he was told of his diagnosis of schizophrenia and told her he would have taken medication to prevent it. He told her he thought he should be executed for his actions.
Loughner appeared in court emotionless as he concentrated on the testimony at the hearing.
With his new plea deal, the 23-year-old college dropout will likely be spared the death penalty and instead be sentenced to life imprisonment, sources familiar with the case told The Associated Press.
Loughner previously had pleaded not guilty to 49 charges stemming from the Jan. 8, 2011, shooting at a Giffords campaign event outside a Tucson grocery store.
Giffords survived a gunshot wound through her head and resigned on Jan. 25 to focus on her recovery.
Her husband Mark Kelly said in a statement to NBC News earlier Tuesday that the couple was "satisfied" with the plea agreement.
"Gabby and I have been in contact with the U.S. Attorneys' Office throughout this process," he said. "We don't speak for all of the victims or their families, but Gabby and I are satisfied with this plea agreement. The pain and loss caused by the events of Jan. 8, 2011, are incalculable. Avoiding a trial will allow us – and we hope the whole Southern Arizona community – to continue with our recovery and move forward with our lives."
Victims and the families of victims said at Tuesday's news conference that they, too, were satisfied and that Loughner's guilty plea represented their best available option.
An agreement that spares Loughner a death sentence will benefit both sides, Wes Oliver, a law professor and director of the Criminal Justice Program at the Duquesne University School of Law, told NBC News.
According to Oliver, a life sentence will avoid costly, not to mention highly publicized, trials and spare the victims and their families a lengthy ordeal.