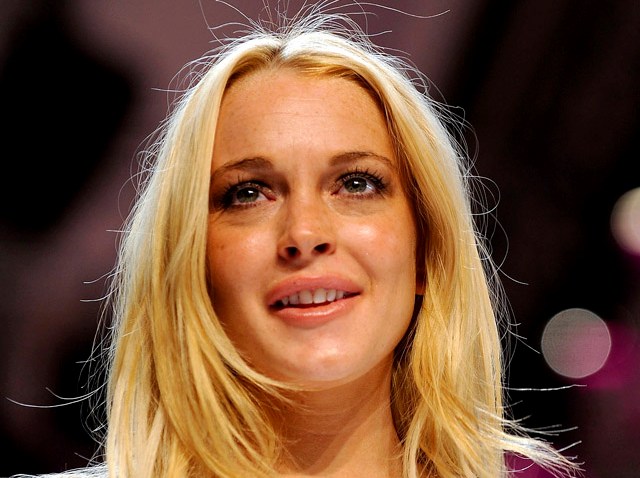 Lindsay Lohan's mother is covering for their addiction-addled daughter and believes her days are numbered, the starlet's father claims.
A day after Michael Lohan claimed that he was worried that his daughter's alleged pill popping would lead to her untimely death, the self-promoting father said his ex-wife Dina is covering for their drug-addicted daughter and believes too that her days are numbered.
"Dina is saying that I'm lying -- that Lindsay doesn't have a problem and that's she's okay," Michael Lohan told the New York Daily News. "But I have proof that Dina has told me Lindsay is on death's doorstep, that she doesn't have much time left"
"There have been frantic calls. And I'm going to prove that Dina is the liar, not me."
Lindsay's recent bedraggled, too-thin and overly tanned look drew criticism from many and even elicited comparisons to Donatella Versace, who is 31 years older than the former child star.
"She needs long-term rehab," Lohan told the British magazine Grazia. "I fear the worst. Look at Elvis, Anna Nicole Smith, Heath Ledger -- who was a close friend of hers. ... It could be a year, a month, a week -- who knows? She has a plethora of medicine you can't mix and can't drink with."
Dina has publicly spoken out against her ex and implored him to lay off criticism of his daughter.
"Michael Lohan needs to focus on being a parent, paying child support, of which he is six months behind, and making up for all the years he was an absentee dad," Dina told People.com earlier this month.
The dad called his ex a liar but said he would draw the line there.
"As the mother of my kids, I won't slam Dina personally," Michael said. "But she has expressed to me that Lindsay is in dire, dire need of an intervention. And Lindsay needs to see that her mother is either lying to me or lying to her."
The starlet was arrested for a DUI in August 2007.