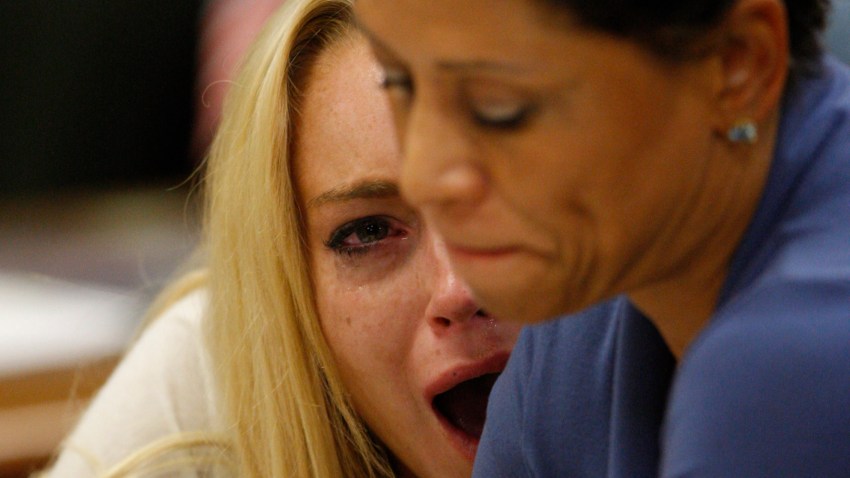 Lindsay Lohan just lost her biggest defender.
The 24-year-old "Mean Girls" star and her Santa Monica-based lawyer, Shawn Chapman Holley, have parted ways just two days after a judge sentenced Lohan to 90 days in the slammer, according to reports.
"I can confirm [Holley] is not representing Lindsay at this point," Lohan's New York lawyer, Stephanie Ovadia, told the New York Daily News.
Ovadia said she did not know the reasons for the split, which was first reported by TMZ. But Ovadia said Lohan was "in the process of hiring new counsel."
A Los Angeles Sheriff's spokesperson told People that the office received a call Wednesday from "a female identifying herself as Tiffany Feder-Cohen," who self-identified herself as Lohan's new lawyer. Feder-Cohen's office did not return the magazine's phone calls.
On Tuesday, Beverly Hills judge Marsha Revel ordered Lohan to surrender July 20 to begin serving a 90-day jail sentence plus 90 days in rehab for violating probation by failing to attend required alcohol education classes.
News of the Holley's departure came hours after the lawyer spoke out against what she called Lohan's unusually "harsh" sentence.
"Ms. Lohan and I are extremely disappointed in the sentence handed down by Judge Revel. We believe that the penalty is far harsher than what others would have received under similar circumstances," Holley told People in a statement. "The reality is that Ms. Lohan, like most defendants, had to balance work commitments with court requirements."
She added: "To be punished so severely for doing so, particularly in light of the fact that she substantially complied with each of her probationary conditions, is harsh and unfair."
Holley also dismissed criticism of Lohan's decision to stencil "F--- U" on her fingernail before heading into court, an act Lohan later described as a "joke" unrelated to her court case.
"With respect to Ms. Lohan's nails, the fact is, the words could barely be seen by the naked eye," Holley told People. "That a courtroom camera, purportedly there to accurately chronicle the proceedings, would use a telephoto lens to zoom in as it did to Ms. Lohan's fingernail is a commentary on the entire issue."