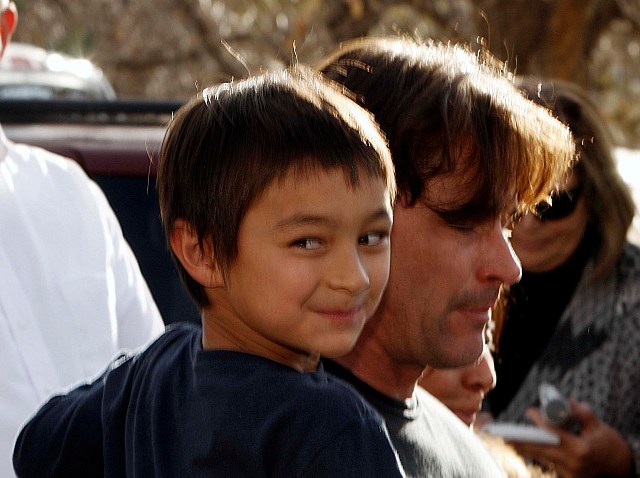 The 6-year-old boy who had the nation worried sick suddenly became sick on nationwide television. And now everyone's wondering if his family's full of hot air.
Less than 24 hours after little Falcon Heene had the country on edge when it was believed he was trapped in a runaway balloon flying high above Colorado, the boy had everyone in America supressing their gag reflex.
The tyke, who was hiding in the attic when the 2-hour ordeal unfolded, vomited three times on two different nationally televised morning shows when pressed about what he meant when he said "We did this for the show" in the aftermath of the balloon debacle. Oatmeal, anyone?
"Mom, I feel like I'm going to vomit," Falcon said on ABC's "Good Morning America" when the question about motives was popped.
Falcon's mother didn't move until host Diane Sawyer encouraged her to follow her son off-set. She eventually went to help her son, who could be heard gagging off-camera. Dad Richard Heene then appeared to fumble for a explanation and came up with one that seemed, er, interesting: nausea-inducing asthma.
The parents, who have strongly denied the balloon debacle was a hoax, also appeared to display an alarming lack of even any kind of manufactured concern.
"You okay, buddy?" his dad deadpanned on-air. "I think he's queasy. Should we take you to the bathroom or something?"
Meanwhile, during an interview broadcast on NBC, Falcon's queasiness was about to make its "Today" show debut. But at least the family was prepared for this on-camera appearance.
It was someone's bright idea to use a clear plastic container as a barf bag for Falcon, who vomited twice when his father was asked about the motivations of the balloon ordeal. Projectile style. It was rough.
Falcon's parents are no strangers to TV. The couple was featured on the reality TV show "Wife Swap" twice and have posted videos of themselves and their children on YouTube.