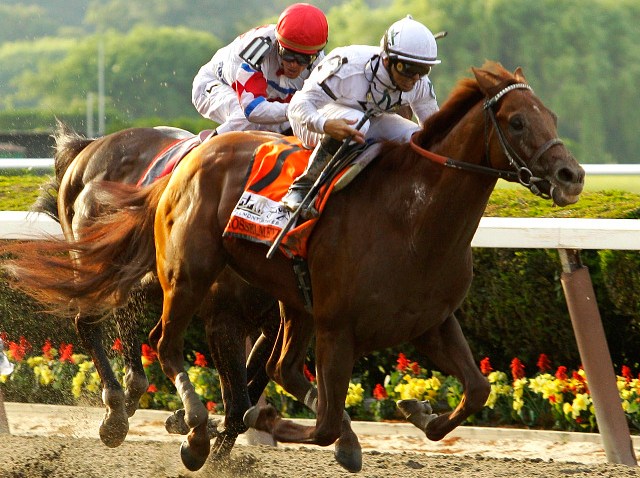 The longshot horse in the shiny cooper coat, Drosselmeyer, held out in the last stretch to win the 142nd Belmont Stakes.
From the gate, First Dude who took second place at Preakness, led the pack and set the pace of the race. But in the last quarter-mile turn, Drosselmeyer with 13-1 odds inched his way from the outside to the front of the pack, overtaking First Dude and then holding firm against runner-up Fly Down.
"Of all my career, of all the great ones I have won, to win this one is unbelievable," said jockey Mike Smith after the race. Smith has raced Belmont 12 times before and this was his first win, lucky number 13, on the longest track of the Triple Crown.
At 1 1/2-miles, Belmont Stakes is not only the longest, but also the oldest, and often considered the toughest of the Triple Crown races. Since 1944 of the 30 horses that have entered Belmont as possible Triple Crown winners, 19 have lost their chances and "their legs" at the Stakes.
For Drosselmeyer, the secret was stamina. "He always keeps coming," said Hall of Fame trainer Bill Mott who earned his first win in a Triple Crown Race. Smith added, "you just want to get him in that rhythm."
On a hot and sticky Saturday afternoon, more than 45,000 spectators packed the stands at Belmont Park in Elmont, New York to watch Drosselmeyer cross the finish line to victory and $600,000.
Drosselmeyer, owned by WinStar Farm which also owns this year's Kentucky Derby Winner, Super Saver, won at a time of 2:31.57. Both Super Saver and Preakness winner, Luckin At Lucky, did not run at Belmont.
Favorite, Ice Box who finished second at the Derby, crossed at a disappointing ninth place in a field of 12 horses.