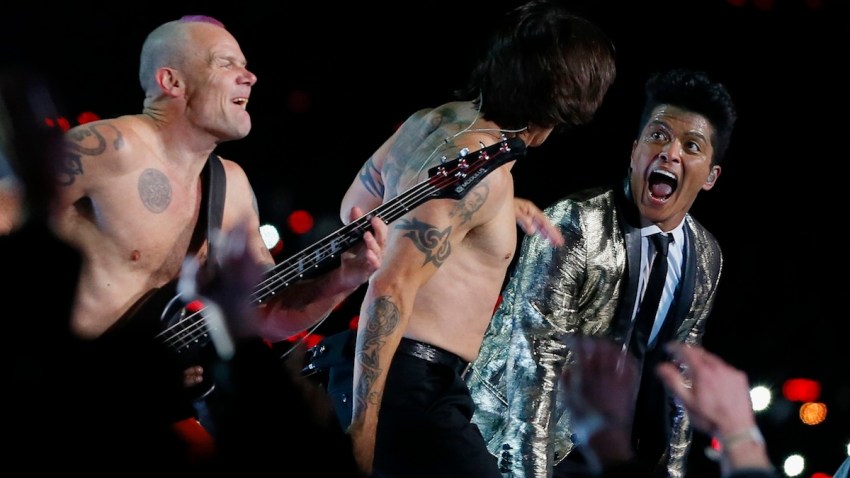 Though it may have lacked the out-sized showmanship of Beyonce and Madonna from previous years, Bruno Mars' Pepsi Super Bowl Halftime Show resulted in achieving just what the Grammy-winning singer hoped it would: it had audiences "smiling" and "dancing."
A child choir began the performance by sweetly singing the chorus of Mars' hit "Billionaire," before Mars was revealed behind a drum kit, clad in a gold lame jacket.
A light rain had begun to fall on New Jersey's MetLife Stadium but it wasn't enough to dampen the high-energy performance he delivered featuring a medley of his hits and an all-too-brief appearance by the Red Hot Chili Peppers. Mars had told reporters earlier this week that his aspirations for the show were simply to "get people dancing, get people smiling."
Before a glittering LED backdrop Mars and his eight-piece backing band - all wearing identical outfits - launched into "Locked Out of Heaven" before grooving and moving their way through "Treasure," "Runaway Baby" and a riff on the Isley Brothers' "Shout."
"Who you rockin' with — you rockin' with the best!" shouted Mars to the audience.
With choreography and steps that would have made Michael Jackson and James Brown proud, the performance had an old-school feel and resulted in the live audience on center field jumping in tune and singing along.
Next up Mars was joined by seminal Los Angeles rock band Red Hot Chili Peppers, with lead singer Anthony Kiedes showing the cool temperatures no mind. Kiedes arrived shirtless and wore shorts over patterned tights - seemingly his only concession to the weather.
Mars and the Chili Peppers delivered a rousing rendition of the latter band's hit "Give It Away." It was the Pepper's only song and left the crowd screaming for more.
Finally, taking the mood downtempo, Mars took his place on a small solo stage to sing his balled, "Just the Way You Are."
The love song was introduced by assorted US service men and women posted around the world who dedicated the performance via video clips to their loved ones waiting at home.
Last year R & B diva Beyonce was joined onstage in New Orleans by Michelle Williams and Kelly Rowland for a much-anticipated Destiny's Child reunion. The group performed a medley of their hits including "Bootylicious," "Independent Woman" and "Single Ladies (Put a Ring on It)" - which is a solo Beyonce hit.
Five Best Super Bowl Halftime Shows Ever
In 2012, Madonna's Egyptian inspired headdresses, Vogueing and endless parade of special appearances by artists including MIA, Nicki Minaj and LMFAO was perhaps more show than substance.
Earlier Sunday evening, Queen Latifah and opera star Renee Fleming set the acoustic tone with renditions of "America the Beautiful" and "The Star-Spangled Banner" respectively.
Fleming was the first opera singer ever to be asked to perform the national anthem at a Super Bowl.
Having grown up in upstate New York, Fleming was unfazed by the cool temperatures, which can reek havoc with performers who choose to sing live in such conditions.
"I want to thank Rochester," Fleming said during a press conference Thursday, "for preparing me for singing in the cold."
But it was Mars' night overall. He had audiences in attendance and at home nodding their heads and singing along to his top 40 hits. And while spectacle is often the barometer of halftime shows, Mars straightforward, soul-based approach and exceptional voice delivered enough showmanship to mark his appearance as one for the Super Bowl ages.