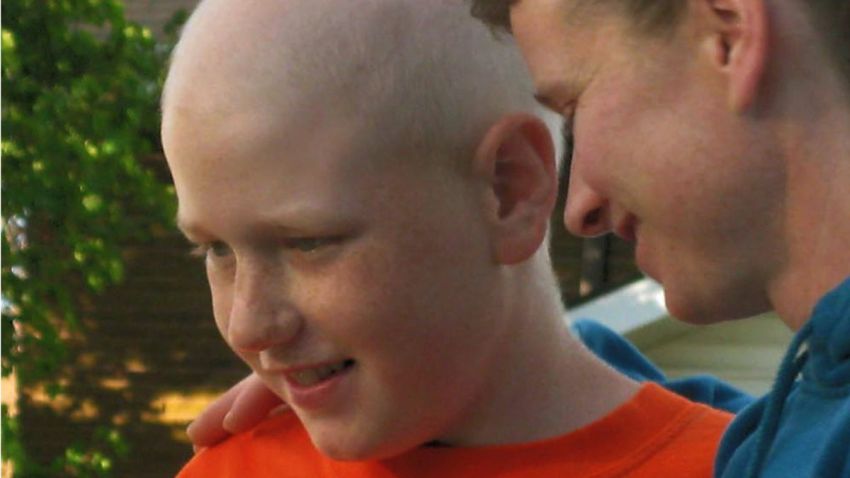 A Minnesota judge issued an arrest warrant Tuesday for the mother of a 13-year-old boy resisting chemotherapy after the pair missed a court hearing on his welfare.

Brown County District Judge John Rodenberg also ordered that Daniel Hauser be placed in protective custody so he can get proper medical treatment for Hodgkins lymphoma.

The cancer is considered highly curable with proper treatment, but Daniel quit chemo after a single treatment and with his parents opted instead for "alternative medicines," citing religious beliefs. That led authorities to seek custody, and Rodenberg last week ruled that Daniel's parents, Colleen and Anthony Hauser, were medically neglecting their son.

The family was due in court Tuesday to tell the judge results of a chest X-ray and arrangements for an oncologist. But Daniel's father was the only one to appear. He told Rodenberg that he last saw Colleen Hauser on Monday evening, and she told him she was leaving.

"She said she was going to leave," Hauser testified, "She said, 'That's all you need to know.' And that's all I know." He said his wife left her cell phone at home.

The family's doctor, James Joyce, testified by telephone that Daniel's tumor has grown and he needs immediate assessment by a pediatric cancer doctor.

Joyce said he examined Daniel on Monday and that an X-ray showed his tumor had grown to the size it was when he was first diagnosed.

"He had basically gotten back all the trouble he had in January," Joyce said.

Daniel was accompanied by his mother and Susan Daya, who Joyce said was an attorney from California.

Joyce testified that he offered to make appointments for Daniel with oncologists at Children's Hospital, the University of Minnesota, Mayo Clinic or elsewhere, but the Hausers declined.

Joyce also said he tried to give Daniel more information about lymphoma but that Daya, Daniel and his mother left in a rush.

"Under Susan Daya's urging, they indicated they had other places to go," Joyce said.

Daya did not immediately return a page left on her cell phone Tuesday by The Associated Press. Her voice mailbox was full.

Besides examining Daniel's chest X-ray, Joyce also said he asked Daniel how he was feeling. The doctor said the boy told him he had pain on the right side of his chest, which Daniel rated a 10 on a scale of 1 to 10.

Joyce said the pain was around the port that was inserted into Daniel's chest to administer chemotherapy, and he said the pain is being caused by the growing tumor, which is pushing the port out of place.

Daniel also told the doctor he had a cough, although he wasn't having any trouble breathing, Joyce said.

Daniel's court-appointed attorney, Phil Elbert, asked Joyce if Daniel was at risk of substantial physical harm if no action is taken. The doctor said yes.

In his ruling last week, Rodenberg wrote that he would not order chemotherapy if Daniel's prognosis was poor. But if the outlook was good, it appeared chemotheraphy and possibly radiation was in the boy's best interest, he wrote.

Daniel's lymphoma was diagnosed in January, and six rounds of chemotherapy were recommended. Daniel underwent one round in February, but stopped after that single treatment. He and his parents sought other opinions, but the other doctors agreed with the initial assessment.

Colleen Hauser testified at the earlier hearing that her son "is not in any medical danger." She said she had been treating his cancer with herbal supplements, vitamins, ionized water, and other natural alternatives.

Rodenberg wrote that state statutes require parents to provide necessary medical care for a child. The statutes say alternative and complementary health care methods aren't enough. He also wrote that Daniel, who cannot read, did not understand the risks and benefits of chemotherapy and didn't believe he was ill.

Daniel testified that he believed the chemo would kill him, and told the judge in private testimony unsealed later that if anyone tried to force him to take it, "I'd fight it. I'd punch them and I'd kick them."

The Hausers, who have eight children, are Roman Catholic and also believe in the "do no harm" philosophy of the Nemenhah Band. The Missouri-based religious group believes in natural healing methods advocated by some American Indians.

Rodenberg wrote that Daniel claims to be an elder in the band, but does not know what that means. Daniel also says he is a medicine man under Nemenhah teachings but can't say how he became a medicine man or what teachings he has had to become one.


Copyright AP - Associated Press