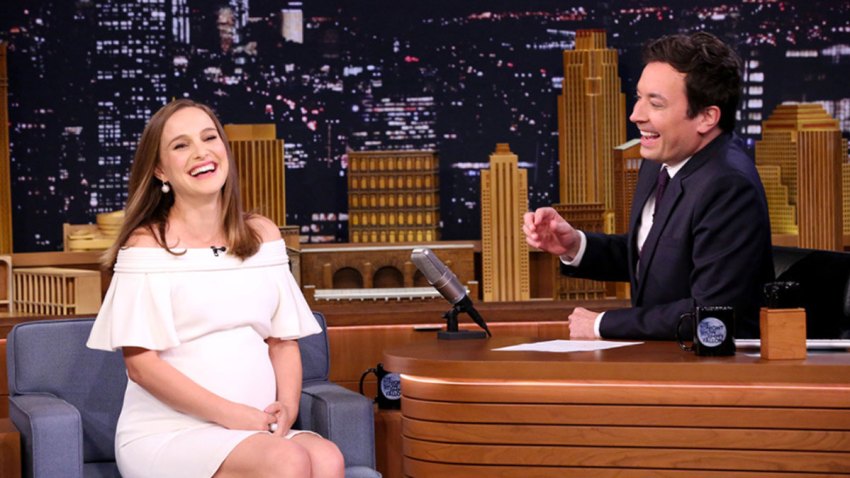 Natalie Portman may be pregnant, but looks to the contrary she won't be welcoming Baby No. 2 anytime soon.
"You're showing and you're glowing! You look gorgeous. Congratulations. You're expecting your second baby," Jimmy Fallon said on NBC's "The Tonight Show" Tuesday. Joking about her bump, he added, "I hate to assume. But I saw you over the summer and you didn't say a word to me."
"Well, it was early," Portman said. "I thought everyone would know because I wasn't drinking."
At the time, Fallon had no idea Portman was expecting. "I just thought you were clean living, you know? I was like, 'Oh, that's Natalie, man. She rolls like that.' Because you're a vegan, right? So I was like, 'Wow, that's awesome.' I'm neither a vegan nor not drinking. I was so not pregnant," he said. "But this is unbelievable. This is great. Are people treating you differently?"
"It's weird because I'm a small person in general, so you show a lot faster and a lot more when you're small," the 5-foot-3 star said. "Everyone thinks I'm about to pop and about to give birth any minute, and I have months to go." In fact, she said, "I went to the store the other day to buy water and the guy at the checkout counter was like, 'Almost, huh?' I was like, 'No! Not at all!'"
Portman did not divulge her due date, however.
In addition to promoting "Jackie" which she has earned the actress early Oscar buzz, Portman said she is looking forward to spending December with her parents and her in-laws.
"I celebrate Hanukkah; I'm Jewish," the Academy Award winner told Fallon. "But my husband's family celebrates Christmas, so we usually do Hanukkah at ours and Christmas at theirs, but this year it's the same time, which is really nice. So, they're coming to us--to my parents. I was asking my husband, 'Is it OK if we don't have a tree?' And my parents are like, 'We can get a tree!' So excited! Like, my whole life--no Christmas tree. And then all of a sudden they have this great excuse, because it's kind of every Jew's secret wish to have a Christmas tree. It's so pretty!"
"It's like, 'Why can't we have that, too?'" Portman added. "It took 35 years to get here!"
Later Portman revealed how she got into character as Jackie Kennedy. "I never really thought of myself as someone who could do imitations of a real person, and she's so well known. I don't particularly look like her, either," the actress confessed. "But the thing that was remarkable is when you put the wig on, everyone could look like her. It's so iconic, the hair."
As for Kennedy's "very specific accent," Portman told the host, "I'm from Long Island, so I can go back to my roots quite easily...but then she has this fancy thing, too, from finishing school."
"Jackie" is in theaters nationwide Dec. 2.
(E! and NBC are both members of the NBCUniversal family.)
Copyright E! Online