A mysterious buyer has spent millions of dollars to become the new owner of a California ghost town that hasn't been populated in 40 years.
Ecology Mountain Holdings spent approximately $22.58 million to purchase the real property and mining claims of Eagle Mountain, Calif., according to SEC documents obtained by SFGATE. The LLC made the deal with Eagle Mountain Acquisition LLC on April 17.
There is little information about Ecology Mountain Holdings other than it is based in Cerritos, Calif., about 180 miles west of the ghost town it just acquired. The company made no announcement about its plans for the new property.
Eagle Mountain was once a thriving iron mine for Kaiser Steel. The mine shut down in 1983, and the approximately 4,000 people who lived in the town left.
Since then, there have been various attempts to utilize the land, which sits just outside of Joshua Tree National Park.
Eagle Mountain Community Correctional Facility opened in 1988 and was open for 15 years before a deadly prison riot led to its downfall. In the early 1990s, a private company unsuccessfully attempted to turn the area into the Eagle Mountain Landfill and Recycling Center. Los Angeles County was also unable to turn Eagle Mountain into a landfill.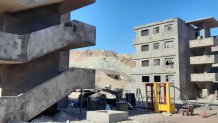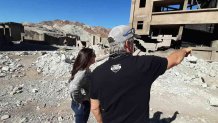 Hollywood has made its mark in Eagle Mountain. Movies like "Stand By Me," "Tenet" and more used the site as a filming location, and there are no plans for that to stop following the Ecology Mountain Holdings purchase.
"We're going to continue to operate as normal," Levi Vincent, president of the Greater Palm Springs Film Office, told The Los Angeles Times.