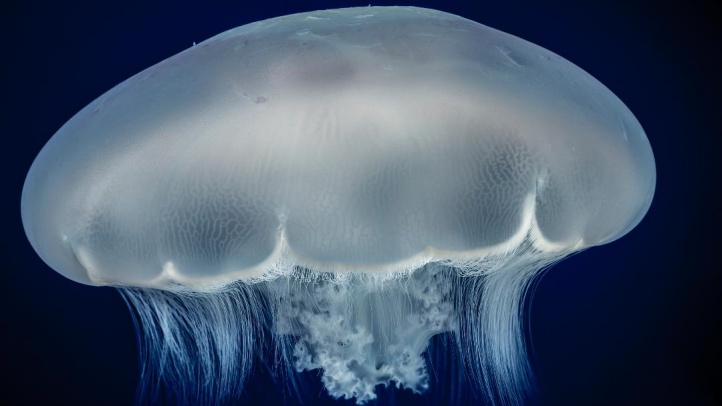 OH MONDAY, you really hustle for your meh-filled reputation. It's the day when we're said to yawn the most, complain the most, and long for the coziness of our bed all day long. But sometimes a glorious gift floats in our direction, with a delightful delicacy, and Monday's usual annoyances seem to swiftly dissipate. A prime example? Monday, May 20, 2019 magically transformed into Moonday, much to sea lovers' surprise. For that's the happy day when the Monterey Bay Aquarium revealed its brand-new live cam, the one devoted to its bloom of beautiful moon jellies. What are these otherworldly residents of the Cannery Row destination up to, while they seem to effortlessly float past the camera lens?
"PULSATE"... is a key word here, which is just what is happening with the critters' "delicate, translucent bells." The bells may be on the clearer side, but these animals possess complex forms. Look closer and you'll spy "four horseshoe-shaped gonads inside their bells and a fine stinging fringe they use to hunt prey." That is beyond cool, wicked cool, in fact, but as cool, if you're into colors? The moon jellies can change hue, depending upon their diet. "An orange tint hints that they've been feeding on brine shrimp" is the astounding word from the MBA. Yes, astounding: We can let the spirit of Monday sap us of our world-connecting joy, but once a person spends a minute ponder the tint-changing moon jellies and their sting-delivering fringe, the mystery of the world again bursts wide.
THE LIVE CAM... is free to view, every single day of the week, and you can watch it for twelve full hours a day, which is about as wicked cool as the aforementioned fringe. Enhancing the experience? The accompanying music, which sounds perfect for a planetarium. The hours? Start at 7 a.m., wrap up at 7 p.m., and fill your heart with jelly joy. But should you call what you're seeing a bloom of jellies or a swarm? That's up to you, but just about every moon maven out there will definitely call this fresh addition to the aquarium's live cam line-up fantastic.
Copyright FREEL - NBC Local Media