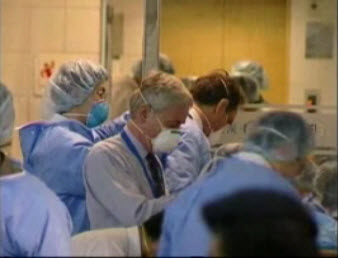 A patient who was battling the first confirmed U.S. case of a deadly new respiratory illness has been released from the hospital, officials said Friday.
"The patient has tested negative for MERS, is no longer symptomatic and poses no threat to the community," said Dr. Alan Kumar, chief medical information officer, Community Hospital in Munster. "Community Hospital finalized its discharge plan with the Centers for Disease Control and Prevention and the Indiana State Department of Health, and the patient was discharged from the hospital. We are proud of our medical staff for recognizing and responding quickly to this incident, and we wish to thank the CDC and the ISDH for their assistance and collaboration."
The hospital and state confirmed that the patient, who lives in Saudi Arabia and came to the United States on a planned trip to visit family, was the first confirmed case of Middle East Respiratory Syndrome Coronavirus in the United States.
The first tests on those who came in close contact with the patient, including his family members and about 50 hospital employees, have yielded no new cases. Indiana Health Commissioner William VanNess attributed that fact to the swift response by hospital staff and the cooperation of local, state and federal authorities, including the Centers for Disease Control and Prevention.
"At this point, it appears that MERS picked the wrong hospital, the wrong state and the wrong country to try to get a foothold," VanNess said at a Monday morning press briefing.
The patient checked himself into Community Hospital on April 28 after feeling ill. Dr. Daniel Feikin, an epidemiologist with the CDC, said the patient works in a hospital in Riyadh, Saudi Ariabia. He flew from Riyadh through London to Chicago on April 24 before boarding a bus to Indiana.
The man's symptoms appeared after he was in the United States, Feikin said.
"Although we didn't know where it would happen, we're not surprised that MERS-CoV has come to the United States," said Feikin. "We know that infectious diseases do not respect international boundaries. In this day and age of global travel and trade, infectious diseases can spread almost anywhere."
Illinois MERS-CoV Hotline: 844-565-0256
Feikin said CDC officials were using the flight manifest to contact about 100 other passengers who were on the plane with the patient. About 75 of them had been reached by Monday morning and none were exhibiting symptoms, he said. Additionally, none of the "about 10" people who were on the bus were symptomic.
MERS belongs to the coronavirus family that includes the common cold and SARS, or severe acute respiratory syndrome, which caused some 800 deaths globally in 2003. Saudi Arabia has been at the center of a Middle East outbreak of MERS that began two years ago. The virus has spread among health care workers, most notably at four facilities in that country last spring.
Officials said Monday the patient did not recall working directly with a MERS patient in Riyadh but said the hospital where he worked did have some MERS cases.
Overall, at least 400 people have had the respiratory illness, and more than 100 people have died. All had ties to the Middle East region or to people who traveled there.
Officials said the disease isn't highly contagious, but there is no cure.
The MERS virus has been found in camels, but officials don't know how it is spreading to humans. It can spread from person to person, but officials believe that happens only after close contact. Not all those exposed to the virus become ill.