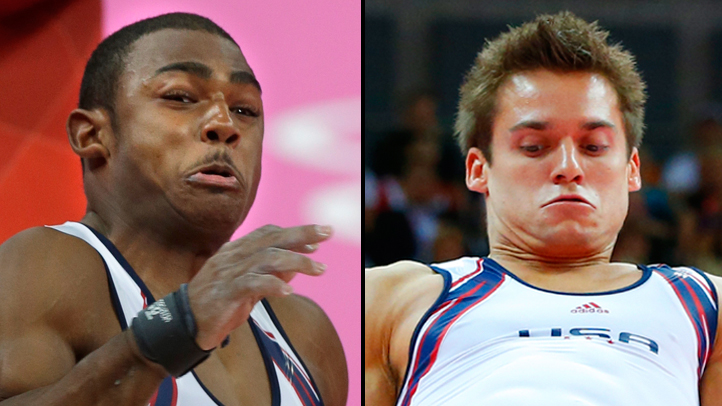 After clobbering its rivals in qualifying rounds, the U.S. men's gymnastics team crumpled in Monday's finals with an error-laden performance that erased any shot at a medal.
The Americans arrived in London full of optimism. They were considered contenders for the bronze medal, behind powerhouses China and Japan. On Saturday, they shocked the field with a first-place performance in the qualifiers, raising hopes for their first Olympic title since 1984.
Then they fell to earth, hard.
Sam Mikulak lost his balance and touched the ground on his floor routine. Danell Leyva, who came in first overall in the qualification round, slipped from the pommel horse. John Orozco, the U.S. champion, fell from the horse and blew his landing on the vault, ending up on his backside instead of his feet.
They finished fifth.
"It didn't go as planned today," Orozco told the Associate Press. "I can't help but feel personally responsible because I did five events — I did the most out of everyone — and I botched on two of them. It hurts."
Meanwhile, China, which claimed gold at Beijing and Sydney, did it again by a massive margin. Japan took silver after officials initially placed the team in fourth, and Great Britain won bronze.
The home team was initially announced as silver medalists, to the delight of the crowd that roared with approval, but its placement was revised after Japan filed an inquiry over Kohei Uchimua's pommel horse score. Judges reviewed the request for a few minutes and then announced adjusted scores, bumping Japan up to second, Great Britain down to third and Ukraine off the medal podium to fourth place. Though the crowd booed the results, bronze was still a remarkable win for the British team, which hadn't won a men's gymnastics medal in a century.