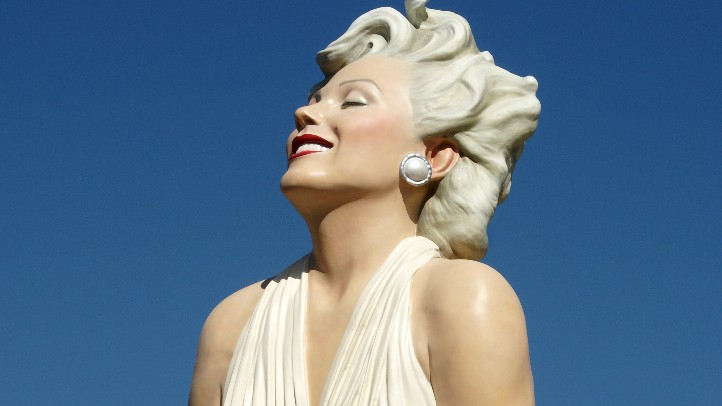 STAYING POWER: Keeping relevant in the movie business is a topic so eternally hot that books have been written on it since, well. Since the invention of film. "Flavor of the day" is often applied to an up-and-coming actor, and whether that actor has the chops to stay in the public's hearts (and tap into the public's movie-going budget) is something that remains to be seen.
ALTHOUGH... there is one huge exception to this rule, and her name is Marilyn Monroe. Even though decades have passed since the ultimate movie star left us, she still captivates, on screen, in fashion, in art. And she's truly ruling art at the moment in Palm Springs in the form of the Forever Marilyn sculpture. The 26-foot-tall artwork -- we weren't kidding when we said "one huge exception" before -- was installed at the corner of Tahquitz Canyon Way and Palm Canyon Drive in the spring of 2012. The Seward Johnson sculpture, which has already visited Chicago and other cities, was never meant to be a permanent addition to the desert resort community, though; it was to be up for several months and then gone.
U.S. & World
BUT... some movie magic must have worked, and Ms. Monroe's legendary staying power, because the artwork has received a couple of extensions to its California run. It was announced over the Fourth of July holiday that Forever Marilyn will remain in Palm Springs through Tuesday, Sept. 10.
YES... that means a trip to the desert in summertime, at the height of the heat, but isn't that the very best time to be in Palm Springs? A/C-nice movie-watching, misters misting restaurant diners, and all of those lovely, lovely warm-weather hotel deals. Don't put off your Marilyn visit any longer; the clock really is running out on this one.
Copyright FREEL - NBC Local Media