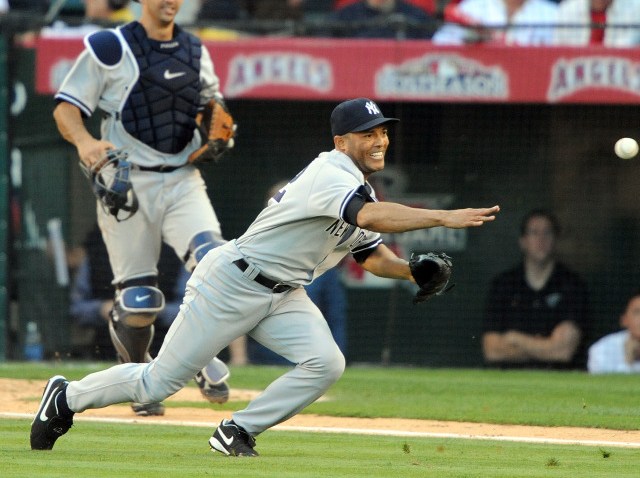 While the majority of the coverage of Monday's 4-3 loss in 11 innings has focused on Joe Girardi's butchery of a pitching change, there are a lot of other topics that merit discussion as we approach Tuesday night's Game 4. The least important, but juiciest, subplot is the discovery of a video, by the website Halos Heaven, that appears to show Yankees closer Mariano Rivera spitting on a baseball before throwing a pitch last night.
Here's a look at the video, which is just before Erick Aybar's 10th inning at-bat, and we'll discuss after you take a look.
A spitball would explain what happened on his throw to third on Aybar's bunt.
There isn't a Yankee fan alive who thinks that Rivera's success has to do with anything more than remarkable conditioning and the best cut fastball that's ever been thrown, and this video doesn't do much to shake that confidence. It's just as likely that he's spitting near the ball, and Major League Baseball has invesitgated and found "no evidence" that he doctored the ball in any way.
It would be quite strange to suddenly discover that after 999 appearances in regular season and playoff baseball games Rivera has been spitting on the ball. For one thing, each of those games have been on television and, for another, his appearances are generally watched more closely than most others because of his role and the magnitude of many of his team's games. There's smoke here for those looking for a reason to hate Rivera, but not much in the way of fire.
At the end of the day the spitter controversy probably amounts to as much as the search for the balloon boy. Heck, it wasn't even the most embarrassing thing cameras caught members of the Yankees doing during Game 3. Let's turn our attention toward the far more important factors to keep in mind when the Yankees take the field tonight. CC Sabathia is starting the game, which makes him a pretty good starting point.
Sabathia is going on short rest, something that hasn't worked out well for many pitchers in playoff history, and he'll almost certainly have lesser stuff than he had on Friday night in the Bronx. He probably won't be able to go eight innings again, either, although that's not such a big problem since Girardi is probably already planning his first three pitching changes.
If Sabathia is less successful, the offense is going to have to pick him up and that's been the hidden problem with the Yankees through the first three games of the ALCS. Jeter and A-Rod have brought some thunder and the Angels helped them out mightily with mistakes, but these guys really need to start getting hits. They're 3 for 28 in the series with runners in scoring position and were 0 for 8 on Monday. As badly as Girardi may have handled things, he wouldn't have had the chance if a couple of Yankees could have gotten good at-bats when they needed them most.
The prime offenders on Monday were Nick Swisher and Melky Cabrera, who left 12 runners on base en route to a hitless 12 at-bats. Mark Teixeira is the biggest overall offender, though. Tex is hitting just .077 for the series, which makes it much easier for the Angels to pitch around A-Rod.
Long story short, if the Yankees don't start getting some hits, they'll need to break out the spitters to keep this series from being tied when Game 4 ends sometime Wednesday morning.
Josh Alper is a writer living in New York City and is a contributor to FanHouse.com and ProFootballTalk.com in addition to his duties for NBCNewYork.com.
Copyright FREEL - NBC Local Media