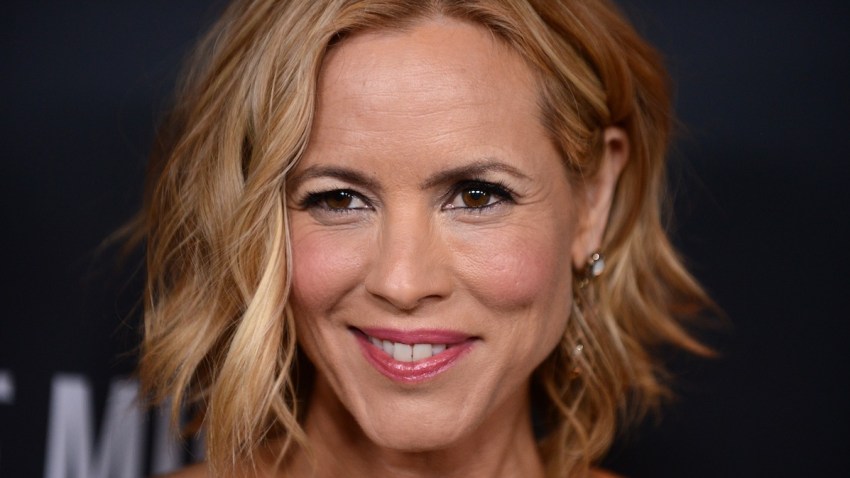 Count Maria Bello among the out and proud. (And add her to the list of stars who have made a major statement by way of a New York Times op-ed.)
The 46-year-old star of "A History of Violence" and "Prisoners" revealed in an essay printed Sunday in the Times that she has a serious girlfriend, recalling in her first-person account how she told her 12-year-old son that she was in a relationship with a woman.
Bello remembered how Jackson, her son with producer Dan McDermott, asked her if she was romantically involved with anybody.
"He was right; I was with someone romantically and I hadn't told him," the actress wrote, noting that her therapist had advised her to wait until Jackson asked about her personal life to divulge the details. "I had become involved with a woman who was my best friend, and, as it happens, a person who is like a godmother to my son."
PHOTOS: Celebs who've come out as gay
Bello writes that she had been in one relationship with a woman before she got together with her girlfriend, Clare, but that men made up the rest of her romantic history.
About a year before her talk with her kid, she was looking through photos of old boyfriends. "As I continued to look through photos, I came across a black-and-white one of my best friend and me taken on New Year's Eve," Bello remembered. "We looked so happy, I couldn't help but smile. I remembered how we had met two years before...We had an immediate connection but didn't think of it as romantic or sexual. She was one of the most beautiful, charming, brilliant and funny people I had ever met, but it didn't occur to me, until that soul-searching moment in my garden, that we could perhaps choose to love each other romantically."
Bello recalled how she immediately was concerned about how getting together with Clare would affect her son--and next, she admitted, she wondered how it would affect her career. (So far, so good for the dramatic actress, who was most recently on the big screen as Hugh Jackman's wife in the kidnapping thriller "Prisoners.")
READ: Angelina Jolie's double mastectomy reveal and 5 more headline-making op-eds
When she came out to her "large, Italian-Polish, 'traditional' Philadelphia family," her father told her, "'She's a good girl, good for you.'"
"My mother and family echoed his sentiments. Maybe they weren't so traditional after all," Bello wrote.
She did not specify her condition, but the statuesque blond also revealed in her op-ed that she fell seriously ill this past summer ("At one point it looked as if I might not survive," she wrote), and that Clare joined Jackson, her parents, her brother and McDermott ("the best father and the most wonderful man I know") at her hospital bedside every day.
It was during her recovery when Jackson asked about her love life, she wrote, and the tween told her in response to her big reveal: "'Mom, love is love whatever you are.'"
Writing how she and Clare and Jackson and Dan spend most weekends together, she wrote that she would like to consider herself a "whatever," as her son suggested.
Bello concluded, "Whomever I love, however I love them, whether they sleep in my bed or not, or whether I do homework with them or share a child with them, 'love is love.'"
PHOTOS: Same-sex celebrity couples
Giving thanks for my modern family. Happy thanksgiving for whatever kind of family you have. @nytimes pic.twitter.com/Mty9FPNHh4 — maria bello (@maria_bello) November 30, 2013
Copyright E! Online