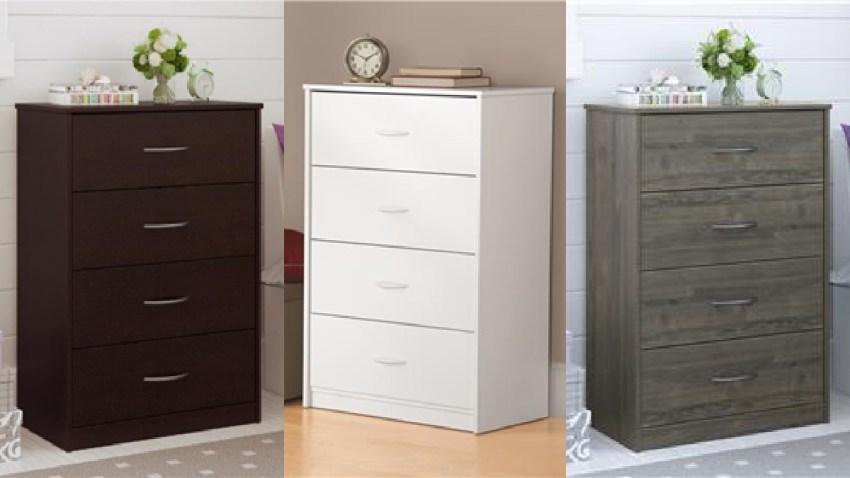 More than 1 million chests of drawers that pose a threat of tipping over onto children have been recalled, the Consumer Product Safety Commission said Wednesday.
One injury involving the chests has been reported to the agency: a four-year-old boy was hurt when one tipped over. Anyone who has one that isn't anchored to the wall is urged to move it to a place where children can't access it. (See a list of recalled models below.)
About 1.6 million Ameriwood-made Mainstays chests were sold across the country at Walmart and other stores from April 2009 until last May.
Ameriwood is offering a free repair kit with feet for the chests and a device that anchors them to the wall. The company can be reached at 877-222-7460 between 8 a.m. and 5 p.m. CT on weekdays, and online at Ameriwood.com.
The Mainstays models being recalled are 5412012WP, 5412301WP, 5412328WP, 5412015WY, 5412301WY, 5412012PCOM, 5412015PCOM, 5412026PCOM, 5412213PCOM, 5412214PCOM, 5412301PCOM, 5412317PCOM and 5412328PCOM. Model numbers can be found on the instruction manual.
The chests are 40 5/16 inches high by 27 11/16 inches wide by 14 11/16 inches deep and have four drawers with a decorative pull on each and plastic drawer glides. They came in these colors: alder, black forest, white, weathered oak, walnut and ruby red.