Same-sex couples and their supporters were elated on Friday morning in San Francisco, as the Supreme Court ruled it's perfectly constitutional for men to marry men, and women to marry women.
The ruling, in a 5-4 decision that handed gay Americans the ultimate victory in a decades-long quest for marriage rights, also came just hours before San Francisco kicks off the Pride Parade and Celebration, billed as the largest lesbian, gay, bisexual and transgender event in the country.[[310350011, C]]
The decision affects the entire country, but is especially meaningful in the Bay Area, where gay marriages first took place in San Francisco more than a decade ago, and where two Berkeley women, Sandy Stier and Kris Perry, along with a Los Angeles couple, challenged the gay marriage ban called Prop. 8, which eventually rose to the Supreme Court and was overturned.
"We were waiting with bated breath," said Ngu Phan, who told NBC Bay Area while standing in the Castro District that he soon planned to marry his partner, with whom he has a young son. "I'm so relieved. Just waiting for everyone to have the right. We wanted a story for our son."
[NATL] Gay Marriage Ruling Cheered Nationwide
Mara Feeney, 64, ran out to the streets of San Francisco carrying a rainbow flag and a sign that read, "Thanks Supremes! For the best gay freedom week ever." She's been with her partner for 45 years.
"I'm just ecstatic," she said. "I'm so tired of partial rights."
#LoveWins quickly became a hashtag, with organizations such as the American Civil Liberties Union tweeting out its approval with the Supreme Court's decision, two years to the day after their last major decision on the issue — in which they struck down the federal Defense of Marriage Act.
The Pew Research Center mapped the changing face of same-sex marriage laws in American states.
President Barack Obama called the ruling a "victory for America."
Lt. Gavin Newsom, who married the first gay couples when he was mayor of San Francisco in 2004, tweeted, "The day has finally come when loving couples can get married regardless of their sexual orientation. Thank you to the five justices."
At a news conference in front of San Francisco City Hall later Friday morning with several other political dignitaries, Newsom got emotional about the decision. He conjured up his own children, ages 5,4 and 1, and how the landmark civil decision will affect them, especially his oldest, who can understand the most. "All I could think about was her," Newsom told the crowds of hundreds. "And how proud I am that she's going to grow up in a country that recognizes what you've always known, that recognizes value in each and every one of us."
The current mayor of San Francisco, Ed Lee, also using the #LoveWins hashtag, tweeted, "Now all loving same sex couples guaranteed the right to marry as everyone else across our country!"
Of course, the ruling did not please everyone.
A handful of protesters stood on the University Avenue bridge overpass along Interstate Highway 80 in Berkeley calling for people to "ignore insane judges" and marriage should be for "1 man + 1 woman."
And in a statement from Sacramento, Andy Pugno, general counsel for Protect Marriage, said: "Today's decision does grave injury to the basic concept that the people—not the courts—make the law. A bare majority of the Supreme Court has abruptly cut off this ongoing debate, unilaterally imposing its view of what's good for society by suddenly discovering a new constitutional right that almost no one would have imagined just a few years ago. The 'separation of powers' they taught us in grade school is now dangerously out of balance, and it's time to remind the government that all constitutional power ultimately resides in the consent of the governed—not in kings, dictators or judges."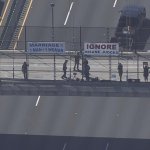 Gay and lesbian couples already were able to marry in 36 states and the District of Columbia.
The court's ruling on Friday means the remaining 14 states, in the South and Midwest, will have to stop enforcing their bans on same-sex marriage.
And for that, Angel Carney of San Francisco was glad.
"A lot of pain is just being released, and I don't have to carry that," Carney said. "Hopefully now, we can get on to bigger and better things."
The Associated Press contributed to this report.