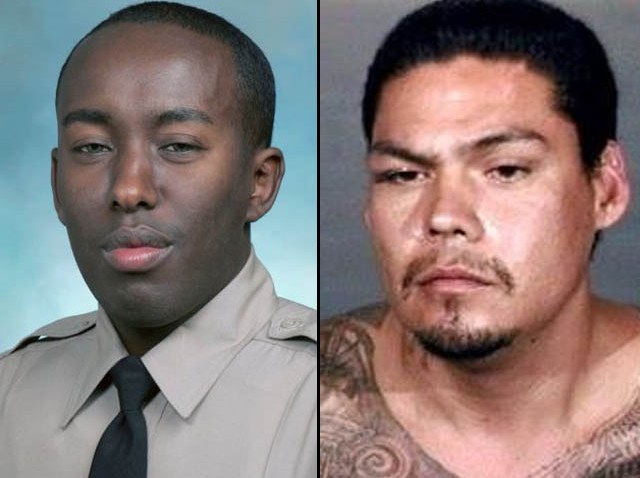 A reputed gang member killed in a shootout in East Los Angeles in which a deputy trainee was wounded was identified as a local parolee, while the deputy remained hospitalized and was facing surgery Wednesday afternoon.
Nestor Torres (pictured, right), 37, of East Los Angeles, was on parole from a conviction for being a felon in possession of a firearm and shooting at an inhabited dwelling, said sheriff's Capt. Mike Parker.
The wounded deputy, Mohamed Ahmed, 27, was hospitalized in critical but stable condition, according to sheriff's officials, who announced Wednesday afternoon that surgery was planned for Ahmed, who reportedly suffered a serious eye injury.
Sheriff Lee Baca said earlier Wednesday that the deputy is "very strong, and very stable, and he was talking before he was sedated ... and so, we're just grateful that there was no injury to his brain, which is generally the most critical thing when a head shot occurs."
The suspect was shot and killed by Ahmed's training deputy, a 21-year veteran of the sheriff's department whose name was withheld.
The lawman, "a long-term field training officer," suffered "mild injuries during the initial fight when Torres tried to shoot him, but he was not hospitalized," Parker said.
According to the sheriff's department, Ahmed and his training officer were on patrol in East Los Angeles about 7:15 p.m. Tuesday when they saw a person -- later identified as Torres -- acting suspiciously in a parked car at North Brannick Avenue, near Floral Drive in unincorporated City Terrace.
When they made contact with him, a struggle ensued and Torres allegedly shot Ahmed in the face, prompting Ahmed's training deputy to return fire, according to sheriff's officials.
Ahmed and Torres were transported to County-USC Medical Center, where the suspect was pronounced dead.
"After the shooting, investigators discovered Torres was in possession of two handguns," Parker said. "Both handguns were recovered at the scene."
Copyright CNS - City News Service