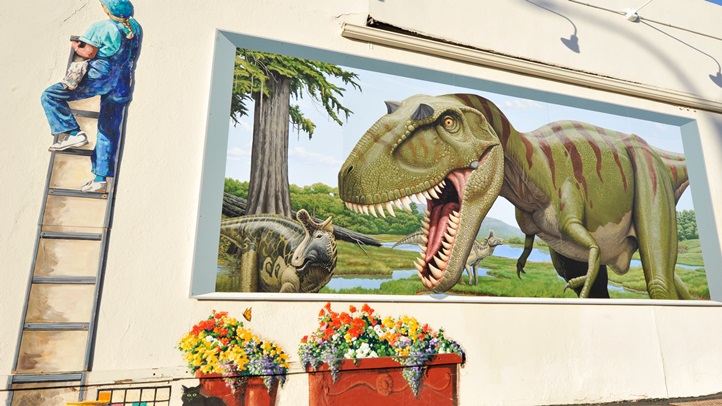 ANY TOWN WITH A MURAL... should be rightly chuffed, for having a large-scale piece of outdoor art, art that very often reflects the town's history, nature, or locals, is a nice thing, indeed. But there are a few special places around California where multiple murals dot the downtown area, lending flavor and back story in a different way (different as compared to how other places tell visitors the tale of the town). Lompoc, that flowery, not-too-far-from-the-ocean city in Santa Barbara County, is one of the Golden State's best-known mural-laden burgs, so much so that people regularly make it a point to tour the murals when visiting the area's famous flower fields.
TO SEE A HUGE ARTWORK... go up along a building wall is a treat that doesn't come around every day, as murals, by their nature, are rather limited in their canvas choices. But the public will see just that over the second weekend in October when Master Artist Art Mortimer puts brushes to bricks and creates a "Mural in a Weekend" at 100 So. H Street. That a whole mural'll come together in two days is thrilling, but the arty excitement doesn't end there.
THE PUBLIC CAN JOIN IN, helping Mr. Mortimer "paint for an hour, a few hours, all day, or both days!" Those days are Saturday, Oct. 8 and Sunday, Oct. 9, and you'll want to pre-register, so the organizers know the sort of supplies needed. A few things to note? This'll be a big celebration for Lompoc, with a mural tour, a fall art show, history-themed open houses, and more happening concurrently to the mural going up. Also? This is Lompoc's first mural to "wrap around the corner of a building," so that's pretty nifty. If you're a mural maven, this could be the quirky getaway you've longed for, and a chance to contribute to something you can revisit, in Lompoc, for years to come, with pride. Details, registering, and such? Make for the Mural in a Weekend HQ.
Copyright FREEL - NBC Local Media