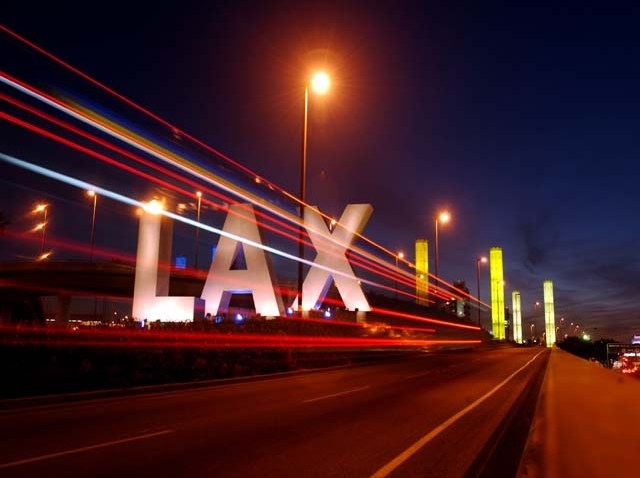 Many of the stores and eateries that have served passengers at LAX for years -- even decades -- will be replaced next year, under action taken today by the Los Angeles City Council.
The panel voted 12-1 to approve four food and beverage contracts and five retail contracts that will bring new vendors to Terminals 4, 5, 7 and 8 at Los Angeles International Airport.
Three of the food and beverage contracts were awarded to Areas USA LAX, LLC, which will open a mixture of upscale and fast-food venues.
Selections will range from the high-end restaurants Ford's Filling Station, Lemonade and Engine Co. No. 28 -- by chefs Ben Ford, Alan Jackson and Kenneth McCaskill, respectively -- to coffee bars and a Carl's Jr.
Areas will also open Sammy's Woodfired Pizza, Homegirl Cafe, Corona Bar & Grill, B Grill by BOA, Klatch Coffee, Natural Break and the Concert Bar.
The remaining food and beverage concession contract went to THS/Marbella Food Service Partnership IV, which will open Wolfgang Puck Express and Skewers, a restaurant by "Iron Chef" Masaharu Morimoto.
The retail contracts were handed out to Hudson-Magic Johnson Enterprises- Concourse Ventures, LAX Retail Magic and XpressSpa. Their vendors include Kitson, Magic Johnson Sports, Hugo Boss, Mattel Experience, Ed Hardy, See's Candies, Vroman's Bookstore and NBC Universal.
Gina Marie Lindsey, executive director of Los Angeles World Airports, which operates LAX, said she expects the new concessionaires to boost revenue at the airport.
"I think it will absolutely result in an increase," she said. "Whether it's a significant increase or not, I don't know. I would hedge my bets on that right now because I just don't know the answer."
Councilman Tony Cardenas cast the lone vote against the contracts, saying the bidding process was flawed.
"There seemed to be an artificial rush to just get this over with," he said. "Bad policy tends to be done in a rush."
He was overruled, however, by the rest of the council.
"I really think what we have here is a very unique, diverse variety of folks with retail and food that will have an L.A. flavor," Councilwoman Janice Hahn said. "We wanted Los Angeles International Airport to look like Los Angeles, that was our goal, and I think what we have before us is a great offering."
Los Angeles World Airports spokeswoman Nancy Castles said some of the new stores and eateries will be ready for customers by summer.
The contracts with the current concessionaires -- HMS Host and Hudson -- are set to expire on Dec. 31, but Castles said none of the incoming concessionaires will be ready to immediately take over on Jan. 1 because they will need to renovate the existing facilities first.
Castles said the current and incoming concessionaires will undergo a "gradual transition" to ensure that passengers will never be without service.
"We want to phase them (incoming concessionaires) in, because what we do not want to do is to have one terminal totally with no concessions at all," Castles said. "There will be a gradual transition, with the first wave of concessions certain to have been built out by summer."
More food and beverage contract are up for grabs, accounting for 58 percent of the projected revenue from dining at LAX Terminals 4, 5, 7 and 8. Lindsey said LAWA will begin soliciting bids on Thursday.
LAX officials had originally recommended awarding that deal to SSP America -- whose vendors included Red Mango, Border Grill Tacqueria, Spuntino, Market Cafe and Panda Express -- but the Board of Referred Powers decided to scrap all bids after the city attorney spotted a potential conflict of interest.
Lindsey said LAWA will also overhaul the concessions at Terminals 1, 2, 3, 6 and the Tom Bradley International Terminal. She said bids will be solicited in about three months.

Copyright CNS - City News Service