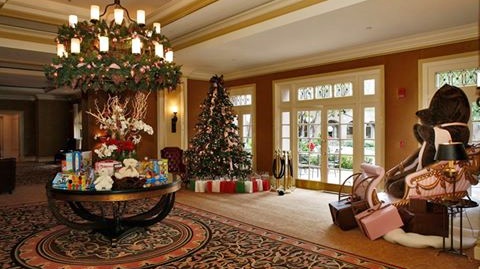 VELVET OUTFIT TIME: The chance to don something made of velvet or another not-often-worn fabric is a special opportunity, and one that seems to come around more often during the holidays. That's when we pose for photographs, and part our hair a bit more carefully, and shine the buckles on our shoes, and ponder nice, memory-making events, the kind that are anticipated for several weeks. That might be a trip to see "The Nutcracker" or a visit to an ice rink or it could be a family-cute tea at an historic hotel. Not every older inn offers the cute-as-a-bow-tie teddy bear-themed tea, but one of Southern California's grand destinations is all about teddy bears and pastries and snapshot-ready settings when winter draws near. We speak, of course, of the annual Teddy Bear Tea at...
THE LANGHAM HUNTINGTON, PASADENA, a gussy-up, kids + grown-ups good time that features "enchanting holiday decorations, a puppet show, storytelling by one of Santa's helpers, and pictures with Santa!" It's heartwarming stuff, and tasty, too, with sandwiches perfect for younger guests on the plates, as well as cookies and cocoa and milk. The first date for 2016 is...
THE SATURDAY FOLLOWING THANKSGIVING, so Nov. 26, while a few select dates follow, with the final Teddy Bear Tea happening on the morning of Christmas Eve. The price? It's $52, and $42 for guests under the age of 12 (you'll also want to keep in mind you'll need to cover gratuity and tax as well once you're there). One additional tinsel-and-holly happening at the hotel this year? A Holiday Kick-Off Reception on the afternoon of Sunday, Nov. 27. You don't need to wear your velvet, or a plaid bow or belt, or even reindeer antlers, but arriving in a cloud of yuletide cheer is, of course, recommended. It's gratis, and you'll need to RSVP (oh yes, and there's a gingerbread house dimension to the doings, a staple of many historic hotels come November and December).
Copyright FREEL - NBC Local Media