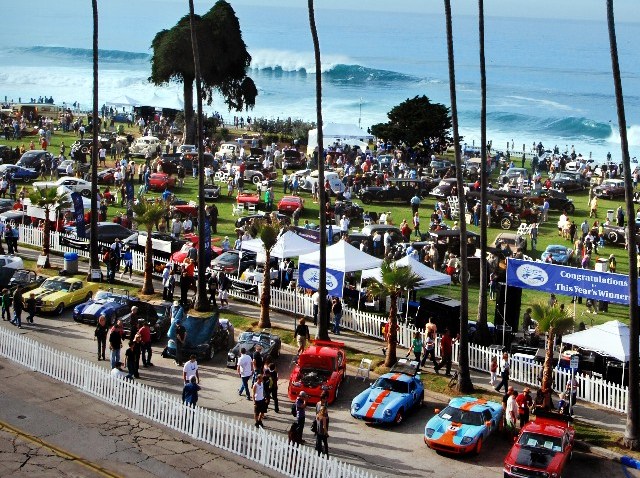 AUTO AGOG: Suffice to say that if any of us spied a 1914 Rolls Royce Skiff easing down the street -- and a nearly 100-year-old Rolls Royce truly eases down the street, rather than speeds -- we'd stop whatever we were doing and just stare, slack-jawed. Even those among us who aren't really into cars, and perhaps couldn't even place the year or make. Now take that slack-jawed-ness and multiple it by, well, a lot, and throw in some balmy ocean views. And voila! You've got the La Jolla Motor Car Classic, which celebrates year 7 on Sunday, April 3.
THE SHOW: All sorts of devices you can get inside and drive and/or ride will be on display, and from several eras, too. Woodies, old-school motorbikes, and British voom-vooms will be lined up, along with German automobiles, which is this year's spotlight group. Ohhh. And muscle cars. We definitely need to see some Woodies by the beach, but the muscle car is a close second. Hours are 9 a.m. to 3 p.m. on April 3, and a purchased-there ticket is $40 (admission is a bit less when purchased in advance).
ABOUT THAT ROLLS: We mentioned the 1914 Skiff because it placed in the Horseless Carriage competition in 2010. Here's hoping (and betting) a few other century-old machines make a showing.
Copyright FREEL - NBC Local Media