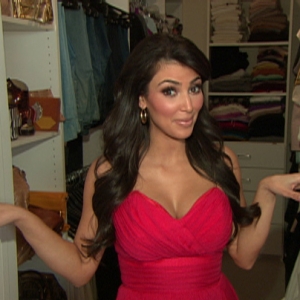 Reality star Kim Kardashian is taking aim at the paparazzi and on a mission to reclaim her identity on Twitter.

Last week, Kim came to the defense of Lindsay Lohan following the "Mean Girls" star's short-lived arrest warrant and weekend of police and paparazzi outside of girlfriend Samantha Ronson's home. During a new interview with Access Hollywood, Kim explained why she spoke out.

VIEW THE PHOTOS: Keepin' Up With Kim Kardashian
"I think it's ridiculous that people follow [Lindsay] so closely and scrutinize every little thing that [Samantha and her] do," she explained. "I think everyone just kind of needs to back off and let any celebrity just live their life."

As a celebrity who often finds herself in the public spotlight, Kim knows what it's like having to contend with aggressive paparazzi.

VIEW THE PHOTOS: Stars Who Twitter
"I definitely think that paparazzi is around, but it's where you choose to go and you could avoid it, if you want to," she told Access. "But, it's always that watchful eye."

The "Keeping Up With the Kardashians" star said she's also mindful of another window into celebrities' lives – Twitter.

"There's so many fake [Kims] that are going around Twittering, saying all this crazy stuff that it really bothers me. So, I've been e-mailing the Twitter people. I've had everyone I know try and get a hold of someone to have them delete it," she said of the micro-blogging Web site. "But, no one at Twitter has gotten back to us. We've tried to e-mail you guys like 10 times. Why won't anyone respond!?"

VIEW THE PHOTOS: Lindsay Lohan
Kim explained that she's not happy with the type of content the Twitter imposter is posting.

"They're just like e-mailing messages to my friends, and my friends at first thought it was me and then they got a little inappropriate and they were like, 'Kim would never talk like that!'" she told Access.

The reality star said that if she can't get her name back on Twitter, that she has a plan to ensure her fans read about the real Kim Kardashian.

"I'm trying to at least get my name back cause I should at least have my name," Kim added. "They're Twittering under 'Kim Kardashian.' Maybe [I'll pick] 'The Real Kim K' or I'll make up some name that I can use."
Related Content from AccessHollywood.com:
PLAY IT NOW: Lindsay Lohan's Crazy Weekend (March 16, 2009)
PLAY IT NOW: Kim Kardashian's 'Dancing' Advice For Nancy O'Dell

MORE ACCESS ON THESE TOPICS: Kim Kardashian - Lindsay Lohan - Celebrities - Twitter - Paparazzi

Copyright NBCAH - Access Hollywood