Two people were charged after a large group of vandals who police described as "anarchists" damaged high-end cars and newly developed buildings and left behind an anti-gentrification message in Philadelphia's Kensington neighborhood Monday night.
Investigators told NBC10 around 20 high-end vehicles and several properties were vandalized in the area of 2nd and Jefferson streets — a few blocks from Northern Liberties. Several witnesses said a group of at least 30 people smashed the windows, spray painted anarchy symbols and caused other types of damage to newly developed properties and cars in the area around 9 p.m.
"I was just inside watching TV with my girlfriend and [I heard] a really loud pop and the sound of glass breaking," said victim Jeremy Mackey, whose home was damaged. "I saw at least 10 of them in the back kind of turning around the corner."
Police say a man and a woman were both taken into custody in connection to the vandalism. Both suspects had masks and spray paint in their possession, according to officials.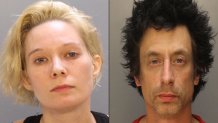 On Tuesday, police announced criminal mischief, conspiracy, risking a catastrophe and related counts against Geoffrey Suchocki, 45, of Doylestown, Pennsylvania and Patricia Monahan, 28, of Philadelphia.
A banner which read, "Gentrification is Death, Revolt is Life," was also left behind at the scene of the vandalism.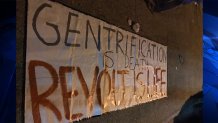 "They left us some messages that said that they weren't happy with our gentrification and they weren't happy with us building," Amberlynn Kabana,the property manager of one of the damaged buildings, told NBC10. "That was their overall intention from what I gather."
The property manager said the vandals only targeted high-end vehicles.
"They only attacked the Mercedes, the BMWs, the higher end cars," she said. "Their message was pretty clear."
Kabana said several newly developed properties are located in the area where the vandalism took place.
"About 100 properties here and I'm also part of the new construction so their overall attack is they know that there is a large group of builders that is rebuilding in the area," she said. "So they knew by whatever source because they hit all of my properties. So I think it was very intentional. Very well aimed."
While no injuries were reported, Kabana said residents in the area could have easily been hurt if they had confronted the vandals.
"When you have 50 people coming down a block and their intention is to cause harm, their intention is to cause a message," she said. "When they emptied their pockets there were dangerous weapons. They were caught with hammers. They were caught with very intimidating objects and their intention is to instill fear."
Both the property manager and another victim told NBC10 they believe at least some of the culprits had participated in a rally earlier in the day in the city, though police have not yet confirmed this and are looking into whether the vandals were part of a larger group.
"It looks like it was from the anti-Trump rally," the property manager said. "They came and I guess their intention was to break windows to entice them to come outside."
Police looked at surveillance video from a nearby store owner. They continued to investigate Tuesday as neighbors cleaned up debris. [[421015703, C]]