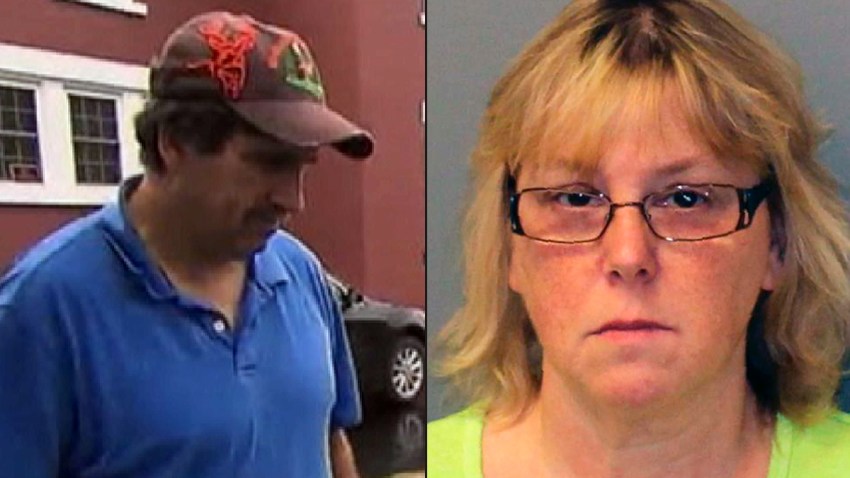 The attorney for the man married to the woman accused of helping two convicted murderers break out of a maximum-security prison says his client is still in shock and "realizes he can't stand by" his wife.
In an interview with Matt Lauer on NBC's "Today" on Thursday, Lyle Mitchell's attorney Peter Dumas said his client still cares about Joyce Mitchell but is cooperating with police in their investigation into her role in the prison escape at Clinton Correctional Facility in Dannemora on June 6.
"She's got to make her own bed," he said. "He's got to distance himself."
Joyce Mitchell, a prison tailor shop instructor, was arrested on Friday on contraband charges after authorities say she gave killers Richard Matt and David Sweat hacksaw blades, drill bits and other items. She had also allegedly agreed to be the pair's getaway driver, but got cold feet, authorities said.
Authorities said that the trio had allegedly discussed killing Lyle Mitchell, also a prison employee. Dumas said his client was "blown away" about the suspected plot and discussed it with Joyce Mitchell during a visit on Tuesday.
"He in shock, still," Dumas said. "This is a woman who he felt was his best friend for 21 years, and now he finds out that she was possibly part of a plot to kill him."
Dumas added that Lyle Mitchell previously confronted Sweat and his wife after learning she was under investigation after a possible sexual incident with the inmate before the Hollywood-style escape. He said that both assured him that nothing happened. Sources have said that Joyce Mitchell was intimate with Matt sometime after that investigation.
The interview comes as the search for Matt and Sweat enters its 13th day.
State police expanded the search for the killers beyond a 16-square-mile area of woods, fields and swamps where the manhunt has been most intense. Police were checking the hundreds, if not thousands, of seasonal homes and hunting camps in the region and stepped up roving patrols.
Officials said the number of law enforcement officers involved in the search had been reduced from more than 800 earlier in the week to more than 600 Wednesday.
State police said Wednesday that they have "no hard evidence" that Sweat and Matt were able to leave the area. But they cautioned that the lack of evidence doesn't mean the escapees are somewhere near the prison.
Sweat, 35, was serving a life sentence without parole in the killing of a sheriff's deputy. Matt, 48, was doing 25 years to life for the kidnap, torture and hacksaw dismemberment of his former boss.
Authorities say the convicts used power tools to cut through the backs of their adjacent cells, broke through a brick wall and then cut into a steam pipe and slithered through it, finally emerging outside the prison walls through a manhole. Wylie says they apparently used tools stored by prison contractors, taking care to return them to their toolboxes after each night's work.
Copyright AP - Associated Press