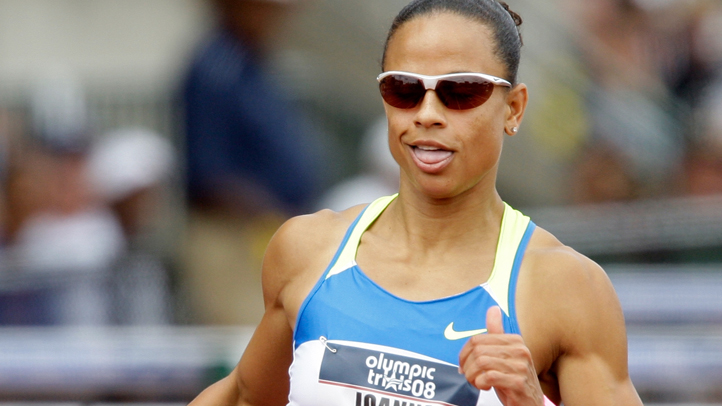 Joanna Hayes limped off the track four years ago at the Olympic trials fully intending on never hurdling at this level again.

The 2004 Olympic gold medalist tore a tendon in her knee at the trials and didn't want to go through months of rehab, let alone the grind of another season. So she called her coach, Bobby Kersee, and said she was stepping away for good.

Kersee patiently listened and told her that he would still be around when — not if — she returned.

Sounded crazy at the time. Not so crazy now.

At 35 and now the mother of a young daughter, Hayes is making her return. She's run precisely four races since the 2008 trials — all this season — and yet still believes she can earn one of the three spots on the squad for the London Games.

Hey, it's the hurdles, she insisted, and anything can happen.

"If you can make it into the final, you have a shot, no matter who the favorite is," said Hayes, whose daughter, Zoe, was born on Dec. 11, 2010. "Because you can be the favorite, but if you hit a hurdle, guess what, you're not the favorite anymore."

Hayes only began training again in November, when she placed that call to Kersee and asked to come back to the track.

"He's just like, 'See you at practice then,'" Hayes said. "He knew it was coming. When I retired he was like, 'I'm looking at you like an old boxer. You say you don't want to do this, but you'll be back.' He doesn't care that I'm old."

Her competition in practice, though, keeps her young. She trains in the Los Angeles area with a group that includes defending Olympic champion Dawn Harper and two-time national champion Virginia Crawford.

"Here's the deal: Ginnie is going to beat me out of the blocks. If I hang on to Ginnie, I'll be in front of all of them," Hayes said. "That's my plan."

It's been a struggle for Hayes in her return as she balances motherhood with working odd jobs and still trying to squeeze in workouts. Long gone are any endorsement deals that used to help.

"I have no money," Hayes said, with a casual shrug and then a quick smile. "But I have Zoe. At the end of the day, when I cross the finish line — win, lose or draw — I have Zoe to go to and that makes it all worth it."
Copyright AP - Associated Press