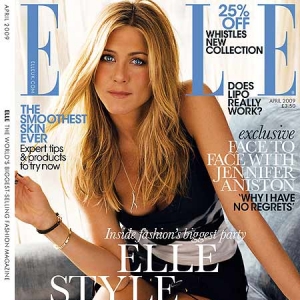 Jennifer Aniston can't seem to escape questions about her marriage to Brad Pitt. It's been four years since Jen and Brad split, and the actress continues to set the record straight on her past marriage.

"No matter what I say, things will always be taken out of context and misinterpreted, will always be turned around to make it seem as though I won't let something go, or that I just keep talking about it over and over," Jen said, prefacing her comments about her 2005 split with Brad, during a new interview with ELLE UK in its April issue.

VIEW THE PHOTOS: Jennifer Aniston: From Red Carpet Darling To Nude Cover Girl!
"I don't owe anybody anything. I don't owe anybody my side of the story. There are no sides!" Jen explained. "There is no bad guy and there is no good guy. There are no villains and there is no heroine in this story. It's just not the case."

Jen went on to say how her problems in the press are nothing compared to the struggles others are facing.

VIEW THE PHOTOS: Brad Pitt & Angelina Jolie
"Look what's out there. Look what people are really living through," Jen continued. "There's no comparison. I am happy."

Despite her inability to enjoy any greasy comfort food now and then. (huh?)

"I'm a realist," she explained. "I know that if I eat nothing but burgers and chips, I'm not going to be hired for the parts I normally would. That might be fine one day, but not right now."

VIEW THE PHOTOS: Hollywood Divorces
As for those roles that she sacrifices Kobe beef burgers for, Jen said she would love to branch out into action film – even possibly as a Bond girl.

"I get offered funny, quirky, pretty roles. I'd love to do an action movie," Jen told the mag. "James Bond! Glamour! Daniel Craig! S***loads of fun!"
Related Content from AccessHollywood.com:
PLAY IT NOW: Oscars 2009: Behind Jennifer Aniston's Makeup
PLAY IT NOW: Access Extended: 'He's Just Not That Into You' Premiere

MORE ACCESS ON THESE TOPICS: Jennifer Aniston - Daniel Craig - Brad Pitt - James Bond - Celebrities

Copyright NBCAH - Access Hollywood