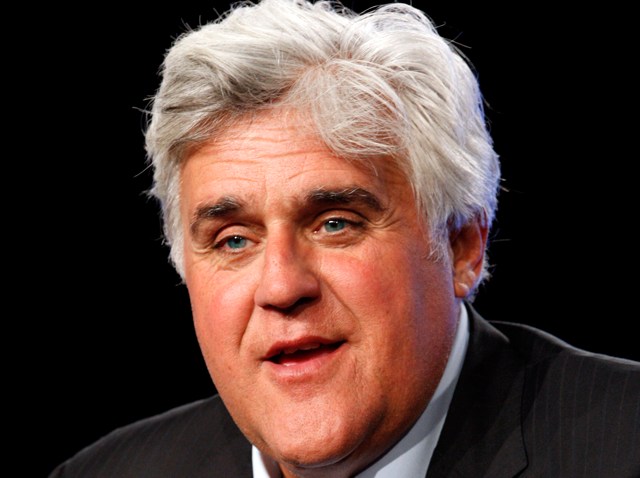 Jay Leno, with the confidence of a master comedian who knows his audience as well as he does himself, didn't trot out a lot of changes Monday as he launched his bid to revolutionize television.

The headline about the premiere of "The Jay Leno Show," which brings the basic "Tonight Show" formula to prime time – 10 p.m. to 11 p.m., five nights a week – could have been that he got some of his biggest laughs with his tried-and-true "Headlines" feature.
But the bigger news came in Kanye West's appearance, a day after he snatched the spotlight from Taylor Swift at the MTV Music Video Awards.

Leno started the show, of course, with his monologue – complete with the familiar studio-audience mosh-pit greeting, banter with bandleader Kevin Eubanks and the kind of topical jokes that only three months ago would have aired 90 minutes later.

There were some differences, including a new theme song and a spiffy new set that ditches the old desk and couch in favor of informal comfy chairs during interviews. More significantly, is that even with guests and music, "The Jay Leno Show" is packed with comedy.

Singing comedian Dan Finnerty of "The Hangover" fame offered an amusing video piece in which he serenaded a car wash patron. Leno appeared in taped "interview" with President Obama, interspersing his silly questions with the President's serious answers from his recent "60 Minutes" sitdown. Oprah Winfrey made a funny cameo, via video.

Leno's first guest was another familiar face -- Jerry Seinfeld, who lampooned the hoopla surrounding the time change by donning a tuxedo and teasing the host about his new gig.

"I'm trying to grasp what's going on here…. In the Nineties when we quit a show, we actually left," Seinfeld quipped.

Leno got an unexpected, ratings friendly welcome-to-prime-time gift from West, who handed the host a ready-made "Hugh Grant" moment -- a chance to reaffirm his image as the regular guy not afraid to ask, "What the hell were you thinking?"

Or, as Leno put it to West, in an understatement, "You have a tough day today?"

But Leno kept the jokes in check, giving West an opportunity to apologize again to Swift – and getting the tough-guy rapper to choke up when he asked West what his late mother would have said about his rude behavior.

Grant's appearance on "The Tonight Show" in 1995 after getting caught with a prostitute is credited with giving Leno a ratings lead he never relinquished until he was forced out of the 11:30 p.m. slot to make way for Conan O'Brien.

Preliminary ratings showed Leno got off to a strong start, pulling a 19 share, which likely translates to nearly 18 million viewers, according to the live feed. But how the ratings shake out in the long term is far from clear. Leno is dipping into unknown waters, wading into an ancient sea of scripted dramas and news shows, the standard 10 p.m. fare for decades. There's no one obvious rival, like David Letterman, whom Leno beat out for Johnny Carson's job and eventually bested in the bid for the bigger audience.

Among the questions surrounding the new show is whether the middle-of-the-road Leno will attract a significant portion of the 18-to-34-year-old viewers advertisers crave. He may have gone along way to grabbing a younger crowd with the appearance by West, who performed with Rihanna and Jay-Z.

If Leno is worried about the new program, which, perhaps more than his 17-year "Tonight Show" reign will determine his legacy as a TV star, he wasn't letting on Monday night.

Leno prides himself on being an old-fashioned guy, at least when it comes to his work ethic. And he sticks to the adage, "Never let 'em see you sweat."

Rather than ending with the musical guest as was "The Tonight Show" tradition, Leno capped the new program with "Headlines" -- saving his best for last and suggesting that he's also determined to leave 'em laughing.

Hester is founding director of the award-winning, multi-media NYCity News Service at the City University of New York Graduate School of Journalism. He is the former City Editor of the New York Daily News, where he started as a reporter in 1992. Follow him on Twitter.
Copyright FREEL - NBC Local Media